People on the Move

Stephen Colvin steps back into publishing at Robb Report and more...
Robb Report's new owners, Rockbridge Growth Equity, made their first big hire since acquiring the company in December. And, in line with the title's image, it's a splashy one.
Stephen Colvin is joining Robb Report as chief operating officer and president of digital. He'll be responsible for growth in digital media, events and several other areas of operation in domestic and international markets, the company says.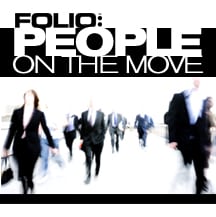 Colvin has been a big name in media the since the mid-1990s when he was CEO of Dennis Publishing U.S. division. He's since held several other top roles, including a three-year stint as chief exec of Newsweek Daily Beast, and most recently as executive-in-residence at the venture capital firm, Lerer Ventures. He's also been an advisor for Rockbridge.
"Robb Report is perfectly positioned to benefit from the exponential growth of the global luxury market," Colvin says in a statement. "I am delighted to join Bill Curtis and his very talented team to drive aggressive expansion plans on various digital media platforms. "
Here's the rest of this week's people on the move:
Field & Stream tapped Will Brantley as their new hunting editor. Brantley has been a contributor for years and joins the magazine from his previous post as editor of the outdoor site Realtree.com.

People en Español named Charo Henriquez executive editor of peopleenespanol.com. As the top digital editor for the brand, Henriquez is responsible for overseeing the creation and distribution of content for audiences in the U.S. and Latin America.

StyleWatch has announced that Lisa Arbetter is now editor. Arbetter is not a newcomer to the brand, as she played an integral role in its launch while serving as deputy editor. StyleWatch's EIC, Ariel Foxman, said Arbetter will lead them into the next phase.

Scott Bailey has been appointed president of TEN's automotive group. He joins the TEN team from Synacor, Inc., where he was COO and a part of the management team that took the company public in 2012. ​

Meredith Corporation named Didi Gluck deputy editor, beauty of More magazine where she will report to EIC, Lesley Jane Seymour. Gluck joins the team from Time Inc. where she most recently served as the beauty director of Real Simple.

Marie Claire named Clare Ferguson design director and elevated Wanyi Jiang to art director. Ferguson will join the magazine from London, where she was most recently the art director of Tatler. In her new role, she'll now be responsible for spearheading the overall design of the magazine as well as leading the art department.

Dan Rubinstein will join Departures as first-ever Home + Design editor. Rubinstein was most recently the editor-in-chief of Surface magazine and has spent more than 15 years in media contributing to publications such as The New York Times and more.

Defense One has named veteran defense and national security journalist Bradley Peniston as deputy editor. In this role Peniston will manage editorial staff and oversee the direction of the publication's news coverage and reporting.

Publisher and research firm, IDG, has hired Josh London as chief marketing officer of its communications division. London was most recently founder and managing partner of Salt Island Ventures, a marketing and management consultancy serving the digital media space.

Richard Rivera was named president and chief operating officer of CFO Publishing. Rivera has been with the company in several capacities since 2012, most recently serving as senior vice president and chief content and product development officer.

Atlantic Media's National Journal Group has appointed Michael Gottlieb as executive director of its Policy Brands Roundtable, a brand-image consultancy focusing on Washington, D.C. policy makers. Gottlieb had been Associate White House Counsel and Special Assistant to the President of the United States.

Kayak Fish has named Jerry McBride as editor. McBride has written for the magazine since it's inaugural issue and has served as editor of Florida Sportsman and Shallow Water Angler.
Meet the Author
---