People on the Move | 7.28.11

Out Magazine, Town & Country, Vanity Fair, Departures...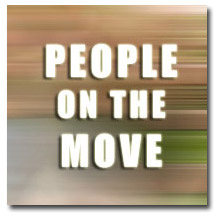 Jerry Portwood is named Out's new managing editor. Portwood joins Out after three years as editor-in-chief of New York Press.
UBM Canon Publishing names Kieran Hannon vice president of marketing. 
Freeda Fawal-Farah is named associate publisher of marketing for Town & Country magazine.  Fawal-Farah was most recently the associate publisher of marketing for Harper's Bazaar since 2006. 
Gary DeSanctis is promoted to group publisher of Marine Group. DeSanctis is the former co-publisher of Yachts International and vice president of sales for the group.
Departures welcomes Erin Walker as financial, spirits, and New England manager.  Walker was most recently an account director of More magazine. 
James Reginato is named writer-at-large at Vanity Fair. Reginato will also continue his role as contributing editor-at-large for Architectural Digest.
Jan Alexander has moved from her position as news editor at Institutional Investor Special Projects to join AR Magazine as senior writer. 
Hard Assets Investor welcomes Drew Voros managing editor.
David Leonhardt is appointed Washington bureau chief at The New York Times. Leonhardt previously wrote the economics and business column "Economic Scene" and was staff writer for The New York Times Magazine and contributor to the "Economix" blog. 
David Kansas will join American Public Meadia's Marketplace as a chief operating officer in late August. Kansas was most recently chief markets commentator for The Wall Street Journal. 
Bloomberg.com welcomes new deputy editor of personal finance Nikhil Hutheesing from his most former position of senior editor at Forbes Magazine and Forbes.com. 
John Montoria is overseeing the newly-launched HuffPost Culture blog covering film, theatre, art, architecture, music, TV, opera and design. Gazelle Emami will serve as culture editor of the blog.
Politico names Erika Lovley assisant editor. Lovley is also a writer and editor for the Arena, Politico's commentary section and is a former congressional reporter at Politico. 
John Wilen joins Debtwire ABS covering secondary market trading of residential mortgae bonds and whole loans, asset-backed securities and collateralized debt obligations.  Wilen formerly worked at Asset-Backed Alert and The Associated Press. 
Brian O'Rourke is promoted to national sales manager of Bioscience Technology. O'Rourke is a former regional account manager for Laboratory Equipment and R&D. 
Meet the Author
---