People on the Move | 7.21.11

TIME, Whole Living, Forbes, American Banker...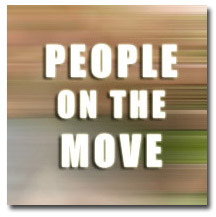 Peter Lobil joins Chief Content Officer magazine as president/publisher to lead Content Marketing Institute's business development and media partnerships.
Expanding their D.C. presence, RealClearPolitics announces Meg Szabo as marketing director, Carl M. Cannon as Washington editor, Alexis Simedinger as White House correspondent, Caitlin Huey-Burns as political reporter and Nicholas G. Hahn III as assistant editor. 
Kevin Wack joins American Banker as a reporter covering congress. Wack is a former investigative reporter for the Portland Press Herald. 
AARP the Magazine welcomes Eric Schurenberg as financial editor-at-large. Shurenberg was most recently editor in chief for BNET and editorial director of CBS' Money Watch. 
Doug Aamoth is now technology editor at TIME.com covering mainstream consumer technology and sports video games. Aamoth is also the editor of TIME's Techland. 
Tom Scocca joins Dead Spin as managing editor covering sports.
Kevin White is named publisher of Health. White has been with the brand since 2008 as publisher of Real Simple.
Jessica Patel (nee Seubert) moves from her previous position with Bankrate.com to personal finance editor for the site. 
Roll Call appoints Humberto Sanchez as senate reporter for Roll Call's Leadership Team. Sanchez is a former reporter for National Journal.
Alanna Stang is promoted to editor-in-chief of Whole Living. Stang is a former editor of Martha Stewart Living. 
Beth Pinsker Gladstone moves from her position as editor at DealNews.com to the new position of deputy personal finance editor for Reuters (Wealth). 
The Deal welcomes Paula Schaap as associate editor for markets. Schaap is a former senior reporter and editor for HedgeFund.net. 
Talia Buford joins Politico Pro as an energy reporter. Buford moves from her most recent position as a reporter at The Providence Journal, RI. 
Sommer Mathis is named editor of The Atlantic's new website TheAtlanticCities.com. Mathis most recently was online editorial director at Washintonian. 
Shayndi Raice is now covering social media for The Wall Street Journal. 
LaSharah S. Bunting is appointed national news editor at The New York Times. Bunting previously served as deputy sunday metropolitan editor at The New York Times.
Stefanie Trong is named fashion editor at Nymag.com overseeing fashion, beauty and shopping coverage. Trong moves from her previous position of deputy digital editor at Lucky. 
Meet the Author
---