People on the Move | 7.17.14

Niche Media, Marie Claire, Coastal Living and more…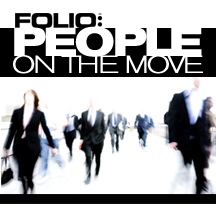 Julia Turner has been named editor-in-chief of Slate. She joined Slate in 2003 and most recently worked as deputy editor since 2008.
Katherine Nicholls was promoted to chief executive officer at Niche Media from her role as president and chief operating officer.
Jon Tietz joined GQ as fashion editor. He most recently worked as the men's merchant at Club Monaco.
Light Reading appointed Jason Meyers as senior editor, utility communications/IoT. He recently worked as a contributing editor at Light Reading, and founded Live Concepts Media.
Lindsay Lambert was named managing editor of Coastal Living. She previously worked as content editor for Rue La La.
Maxim hired Kevin Martinez as publisher. He was vice president at Details.
Margaret Low Smith has been named vice president of The Atlantic and president of AtlanticLIVE. She had been senior vice president for news at NPR.
HollywoodLife hired Carolyn Davis as managing editor. She was previously staff editor at Us Weekly.
Nancy Gillen has been named managing editor at Marie Claire. She joined from Glamour, where she was managing editor.
Northstar Travel Media appointed Rebecca Zhang as group publisher, China. Susan Li was promoted to editorial director for Northstar Travel Media China. Li has worked for Travel Weekly China and Events China in past positions including publisher and editor-in-chief.
The American Society of Cinematographers has made multiple staff changes.
Stephen Pizzello has been appointed editor-in-chief and publisher of American Cinematographer from his role as executive editor for the past 19 years.
Jon Witmer has been promoted to managing editor from associate editor.
Rachael Bosley is now managing director of the ASC's website and social media channels. She was previously a senior editor there.
Andrew Fish was named associate editor. He is an independent blogger for The Huffington Post and former staff editor at Venice magazine.
Kelly Brinker is the magazine's new photo editor. She is a photography instructor and former photojournalist.
Meet the Author
---