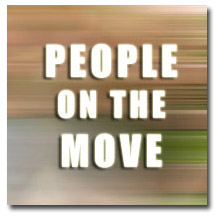 Emily Mullin, previously with the Baltimore
Business Journal, has joined the Dorland Health team as a staff writer and
reporter for Dorland Health, Case in
Point and the Professional Patient
Advocate Institute.
Simon Rabinovitch has started the Financial Times in Beijing. Rabinovitch was most recently the China
chief economics correspondent at Reuters.
Senior business editor at NPR Marilyn Geewax has been named national economics correspondent/editor. She will focus on writing for NPR.org and engaging in radio conversations, in addition to editing and economic analysis for both Web and radio.
Laas Turnbull will guide former Eye Weekly under its new name of The Grid as publisher and editor-in-chief.
Lynn Andriani has been named online food editor for Oprah.com. Andriani was most recently a senior
editor for Publisher's Weekly.
Cathy Christino has joined American Lawyer Media as vice
president of marketing with over 20 years of experience in corporate marketing
in the publishing industry.
Jocelyn R. Taylor has moved to publisher of VIVmag. Most recently, Taylor founded
JRT multimedia, LLC, a full-service luxury brand marketing and media agency.
Matthew Cooper has been named editor
of National Journal Daily. Cooper has experience working with U.S.
News & World Report, TIME,
Time.com and as editor for Washington Monthly, The New Republic, Conde Nast
Portfolio, The Atlantic and TalkingPointsMemo.com.
Laura Goldstein is now editor-in-chief At AOL
Real Estate. She previously worked as a freelance editor for various
publications.
Grainne McCarthy has moved to bureau chief of The
Wall Street Journal and Dow Jones
Newswires in Paris. McCarthy was most recently the chief markets
editor for Dow Jones Newswires and
WSJ.com.
Nancy Kerr is now editor at USA Today's
Your Life. Kerr is the former innovations editor for features at The Washington Post.
Tomio Geron will now cover the social web/ social networking and start-up companies for Forbes. Geron previously covered venture capital and internet start-ups for Dow Jones VentureWire.
Sam Baker has moved from associate editor of FDA Week to join The Hill
as a reporter and healthwatch blogger.
Maria Streshinsky has been appointed editor-in-chief at Miller-McCune in addition to her role as managing editor at The Atlantic.
Reason magazine has appointed Mike Riggs as associate editor. Before this, Riggs worked as the senior staff writer for The Daily Caller.
Carol Brault has been promoted to publisher from associate publisher and marketing director of the Dorland Health Group.
AOL Daily Finance has named Sheryl Nance-Nash staff writer. Nance-Nash previously wrote for Money.
Catherine New has joined AOL Daily Finance as staff writer. New acted as the former news graphics editor at The Wall Street Journal.
Tod R. Weiss has been appointed senior writer at CIO.com. Weiss was most recently a freelance IT journalist for companies including Computerworld.com, PCWorld.com and Linux.com.
Becca Tucker will lead the new publication Dirt as its editor.
Stephanie Gaskell is the found and editor of the new www.thewarreportonline.com, The War Report's newest laucnched websiet. Richard Sisk has also joined The War Report as a Washington, D.C. based reporter.
Paul J. Heney has been promoted from senior editor to editorial director of Design World.
The Associated Press has named Kevin Begos the correspondent in charge of the Pittsburg bureau. Begos previously served as a Statehouse reporter for The Tampa Tribune and was most recently a knight science journalism fellow at MIT.
The Huffinton Post has welcomed Liz Perle as a special projects editor. She previously served as an assitant to the editor-in-chief for Seventeen magazine.
Reuters has expanded is legal tax, accounting and other news of the Thomas Reuters Professional Division, newly appointing Lynnley Browning and Nanette Byrnes into the tax and accounting team. Browning was previously a former Reuters Moscow correspondent and business writer for The New York Times. Byrnes formerly reported for Businessweek.
U.S. Banker has rebranded its publication, now going by American Banker Magazine, contributing to serve as a source of banking-business coverage. The magazine has appointed Heather Landy as the leading editor-in-chief.
Eric Mack is now the executive editor at BYTE. Mack was most recently editor at AOL and a contributor to technology and news outlets including CNET, PCWorld and WIRED.
Pan Kwan Yuk is now the New York emerging markets editor for The Financial Times responsible for coverage of all aspects of emerging markets. Yuk previously worked as the FT's UK companies reporter.
Matthew Scott has joined Corporate Secretary as editor, most recently serving as a reporter for AOL Finance.
Adam Bornstein is now the editorial director of LIVESTRONG.com. Bornstein is the former fitness editor at Men's Health.
Kurt D. Soller has been appointed the online style & grooming editor for Esquire covering fashing for men and The Style Blog. Soller most recently worked as men's fashion editor for Ralph Lauren Media.
Jaqueline Hlavenka is the new Northeast region report for GlobeSt.com and Real Estate Forum. She previously was a beat reporter for Greater Media Newspapers in central New Jersey.