People On The Move | 5.30.13

SELF, Real Simple and Poetry...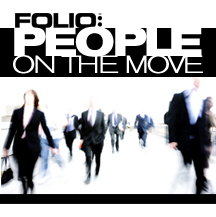 Poetry has promoted Don Share to editor. Share was serving as a senior editor at the magazine.
The Hearst Corporation has named Lincoln Millstein as a senior vice president and special assistant to the CEO. Millstein was serving as an executive vice president and deputy group head at Hearst Newspapers.
Drea Bernardi has been named director of content development at Magnet Media. Bernaldi was previously a production coordinator for Mario Batali. Also, Paul Kontonis is now general manager. Kontonis was a vice president and group director of brand content at The Third Act.
Modern Luxury Interiors has tapped Drew Limsky as its editor-in-chief. Limsky joins the publication from Mariner, where he was also editor-in-chief.
Devin Tomb is now an associate lifestyle editor at SELF. Tomb was formerly an associate editor at Seventeen. And Deirdre Daly-Markowski was named intergrated digital director. She was previously corporate partnership director at Conde Nast Media Group.
Real Simple promoted Lindsay Hunt to associate food editor. Hunt was previously serving as an assistant food editor.
Time Inc. Branded Solutions has named Tom Kirwan vice president of digital sales. Kirwan was an associate publisher for the company's entertainment group.
Meet the Author
---