People On The Move | 5.15.13

Golf Digest, Glamour, The Daily Meal and Skift...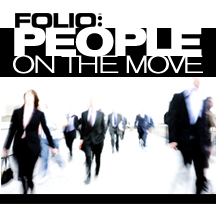 Kiplinger has named Rebecca Dolan as its community editor. Dolan was previously an associate editor at Huffington Post Travel.
Jackie Roembke has been named editor of WATT's feed brands. Roembke was formerly the editor of Feed & Grain magazine.
Bloomberg Businessweek has named Aaron Rutkoff as its deputy digital editor. Rutkoff joins the magazine from The Wall Street Journal, where he was a news and online editor.
Maureen Choi is now beauty editor at Glamour. Choi was serving as associate beauty editor at Marie Claire.
Golf Digest has named Molly Baldwin as director of editorial operations for the publications website. Baldwin was previously group director at Conde Nast Productions.
Jayne Jamison has been promoted to vice president and publishing director at Seventeen and Redbook. Jamison was serving as vice president, publisher and chief revenue officer at Seventeen.
JP Kyrillos has been named president at The Daily Meal. Kyrillos was formerly president and publisher at Travel + Leisure.
Vanessa Velazquez has been named director of account management at Double Verify. Velazquez was previously director of client services at Everday Health.
Skift has named Jessica Plautz as its social media and engagement manager. Plautz was serving as communications and engagement manger at Investigative News Network.
Rob Brunner is now senior editor at Fast Company. Brunner was editor-at-large at Entertainment Weekly.
The American Prospect has promoted Gabriel Arana to Web editor. Arana was previously Web editor at the publication. Also, Clare Malone has been named Web editor. Malone was previously assistant editor.
Noah Mallin is now vice president of marketing at the Online Publishers Association. Mallin was formerly senior partner and head of account planning at Ogilvy.
Maria Duenas Jacobs is now senior accessories director at Elle. She was serving as senior accessories editor at Glamour.
Hearst Magazines has named Troy Young president of digital. Young was formerly president at Say Media.
Meet the Author
---