People on the Move | 4.28.11

CQ Role Call, Good Housekeeping, Forbes, The Atlantic...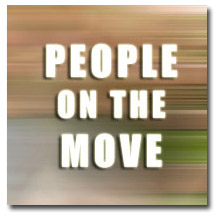 Michael Paulson has joined The New York Times as metro political editor; he comes from The Boston Globe where he acted as city editor. Steven Kurutz is now a staff reporter with the newspaper. Before joining NYT, Kurutz was a reporter for The Wall Street Journal's blog, 'Speakeasy'.
Mandy Jenkins joins The Huffington Post as D.C. social news editor. Jenkins comes from TBD, where she acted as social media editor. Tom Zeller will also join the HuffPo team as a senior reporter. Zeller comes from The New York Times, where he currently acts as energy reporter.
Sam Goldfarb is now a staff writer with CQ Roll Call.
Amy Tennery, who previously acted as web reporter for The Real Deal, has joined Mogulite as managing editor.
Nicole Price Fasig is now web editor with Good Housekeeping. Before this, she served as editor for JWT.
Hephzibah Anderson is now a columnist with Adweek; she previously acted as fiction editor for the Daily Mail.
Todd Woody, who has reported for Fortune Magazine and Business 2.0 Magazine among others, is now environment editor with Forbes.
Andrea Browne has been named channel editor with Kiplinger.com. Browne formerly acted as web producer for Washingtonpost.com.
Spencer Bailey has been promoted at Surface Magazine, moving from editorial assistant to his new role of assistant editor.
At Randall-Reilly's Trucking Media Group, Marlin Caddell is now manager, e-media editorial. Before this, Caddell acted as web designer for 30 Boone newspapers.
Penny Crossman, former executive editor with Bank Systems & Technology, is now editor-in-chief of Bank Technology News.
At Crain's New York Business, Erik Enquist has been named assistant managing editor. Formerly, Enquist acted as politics editor for the Insider.
Michael Shari, a former columnist for AOL DailyFinance, is now a contributing editor with Barron's print edition.
Christine Porretta is now site editor with TheBump.com. She comes from Kaboose.com, where she was producer of health and food channels.
Mark Wildman has been named vice president/group publisher with The Parenting Group. Wildman previously acted as senior vice president of corporate sales & marketing with Bonnier.
Jocelyn Zuckerman, former deputy editor of Gourmet magazine, is now the articles editor with OnEarth magazine.
Dan Burrows is now a financial writer with CBS MoneyWatch.com. Burrows was a senior writer for AOL's Daily Finance.
Gene Marcial is now writing a column called "Street Beat" at Forbes.com.
Lois Romano, former reporter for The Washington Post, is now a senior writer for The Newsweek Daily Beast Company.
Jessica Winter is now arts editor at TIME. Winter was senior editor at O: The Oprah Magazine.
Joshua Greene is now a columnist with The Atlantic's website, where he will report on the 2012 presidential campaign.
Conor Friedersdorf, former senior editor for the Daily Dish, is now an associate editor with the publication's website. Spencer Kornhaber, former Patch editor, is also joining The Atlantic's team as an associate editor for the culture channel.
At King Fish Media, Scott Berkley and Katie Leeman have both been promoted. Berkley is now director of operations, after joining the company as creative services director in 2006. Leeman, previously senior account manager, is now account director.
Jacqueline Azria-Palombo has been named fashion director with Women's Health. Azria-Palombo previously worked as an independent stylist and art director working with several clients including Women's Health, Seventeen, Redbook, Benetton, Garnett Hill and Land's End.
Elizabeth Katz, previously director of Medical Communications for Neurology Review, is now publisher of the journal.
Meet the Author
---