People On The Move | 4.10.13

The New Yorker, Time, Sports Illustrated and Quartz...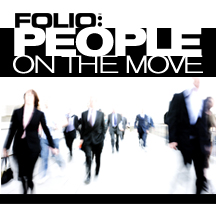 The New Yorker has promoted Silvia Killingsworth to managing editor. She was previously the A-Issue editor at the magazine.
Roya Wolverson has been named deputy global news editor at Quartz. Wolverson joins the publication from Time, where she was a global business editor.
Architectural Digest has named Robert Rufino as a contributing editor. Rufino was serving as the magazine's interiors editor.
Sports Illustrated has named Jenny Vrentas as a staff writer. Vrentas was previously a sports reporter at the Star-Ledger.
Eddie Ross has been named East Coast producer and editor at Better Homes and Gardens. Ross was previously editorial director at Rue La La.
Pittsburgh Magazine has named Cindi Lash as its editor-in-chief. Lash was previously a regional editor at Patch.
Timothy L. O'Brien has been named publisher at Bloomberg View. O'Brien was previously an executive editor at The Huffington Post.
Food Network Magazine has named Lisa Cericola as senior editor. Cericola was a senior food editor at iVillage.
GQ has named Kelly McCabe as fashion editor. McCabe was previously a senior men's stylist at Gilt Groupe.
Edward Felsenthal has been named managing editor at Time.com. Felsanthal was formerly an executive editor at Newsweek and The Daily Beast.
Penton has hired and promoted several new individuals:
Michael Hahn has joined Penton as the Food Group's western regional advertising director. Prior to joining Penton he was SVP, sales for Maple Farm Media. Hahn is based in Irvine, CA.
Eric Stoessel, rejoins Penton's Restaurant Hospitality team as senior editor. Stoessel had previously spent six years with Penton's Lodging Hospitality franchise. 
Greg Lutz has been promoted to the position of product manager within the EquipmentWatch team. In his new role, he will be responsible for long-term product roadmaps for CMS, EquipmentWatch.com, RDB, flat file and API development efforts. Lutz has been with Penton since March, 2012.
Evan Skaggs has joined Penton as sales coordinator in the Atlanta, GA office. Skaggs is a graduate of the University of Georgia where he finished with a double major in Real Estate and Risk Management & Insurance.
Joan Shellman has joined Penton's FleetSeek team as a call center representative in the Fredricksburg, VA office. 
Asya White has joined Penton as an associate analyst in the Atlanta, GA office. White is a graduate of Georgia State University. She will manage relationships with manufacturers, dealers and other organizations in the data industry with a focus on expanding their data resources.
Meet the Author
---