People on the Move | 3.6.14

HGTV, Colorlines, M and more….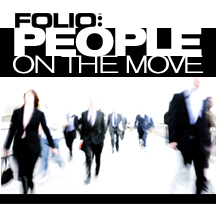 David Perel has joined Bauer Media as editorial director of In Touch and Life & Style. Perel was previously with AMI, where he served as executive vice president of digital content.
M named Jim Windolf as its new editor-in-chief. He was previously serving as a senior consulting editor for the magazine.
Peter Goodman left his role as executive business editor at The Huffington Post and joined the International Business Times as editor-in-chief.
Guggenheim Media has named Mike Bruno vice president of Billboard.com. He was previously assistant managing editor at Entertainment Weekly. Also, Will Lee joined the company as vice president of digital content for The Hollywood Reporter. Lee was at Penske Media, where he was vice president of strategy.
Nick Carbone is now news domain expert at Dataminr. Formerly, he was homepage and breaking news editor at TIME.
Mashable has named Josh Dickey editor of its new entertainment vertical. Dickey left TheWrap, where he was managing editor.
Saul Rosenberg is now chief content officer at Nielsen. He previously served as a consultant at McKinsey & Company.
Akiba Solomon is the new editorial director at Colorlines. She was the brand's managing editor.
HGTV Magazine has named Kate English as associate publisher, marketing. English was previously the magazine's executive director of integrated marketing.
Rick Hamann is the new senior vice president of Onion labs at Onion Inc. He was formerly senior vice president and group creative director at Energy BBDO.
Scholastic named Heather McIntosh Cassano as its chief experience officer. Before joining the company she had the same role at Pearson.
Meet the Author
---