People on the Move | 3.17.11

Fitness, Elle Decor, Financial Times, Popular Mechanics...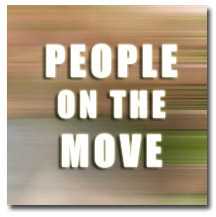 Shelly Banjo, previously in charge of column Donor of the Day and other philanthropy issues, will now cover Connecticut and Westchester County for The Wall Street Journal's Greater New York section. Melanie West is taking over as columnist for Donor of the Day.
Carl Cannon, previously executive editor at AOL's Politics Daily, is now the Washington editor with RealClearPolitics.com.
Brian Hartz has been promoted from associate editor to editor of Douglas magazine.
Gregory Roth will now serve as senior editor and correspondent at Reuters. Previously at The Wall Street Journal as a senior producer for the News Hub, Roth will cover private equity mainly for Buyouts magazine and peHUB.com.
Miles Johnson, who previously acted as investment correspondent in London, will now be a reporter in Madrid with the Financial Times.
Tom Krazit has joined paidContent as mobile editor. Previously, Krazit was a senior writer at CNET.
Sandra Gonzalez and Darren Franich, previously assistant editors, are now correspondents with EW.com.
Elle Décor has added to their editorial team. Quy Nguyen, previously editor for Martha Stewart Living, has been named associate marketing editor. Susan Zevon, who served 15 years as senior editor at House Beautiful, has been named consulting architecture and design editor. Cynthia Frank, who worked with House & Garden for 13 years, will act as contributing editor at large. Other new contributing editors include: Kevin Carrigan, Keith Meacham, Julia Reed, Deborah Sharpe, Paul Sinclaire and John Truex.
Lee Schweizer has been named digital sales manager and Toni Haggerty has need named account manager with OBG Management and The Female Patient.
Mark Vruno has joined Printing News and PrintingNews.com. Vruno previously acted as the lead writer for GRAPH EXPO 2010 Official Show Daily publication.
David Kang has been named to the newly created role of creative director for content extensions for Hearst Magazines. Kang is a former Rodale executive.
Sarah Nassauer, reporter for The Wall Street Journal, will now cover retail for the Personal Journal section. Before maternity leave, Nassauer covered travel for the same section.
Tania Padgett, previously at Newsday for ten years, will now act as editor for CNNMoney.com
Andrew Moseman will now serve as online editor for Popular Mechanics. Before this, Moseman acted as reporter and researcher with Discover.
Rachel Sagan has been appointed as executive vice president, business affairs and general counsel with Playboy Enterprises, Inc. Sagan was vice president, general counsel and secretary of Freedom Communications.
Zachary Warmbrodt will now cover the oil and natural gas industry with Argus Media Inc. Previously, Warmbrodt covered corporate and market news about the refining and petroleum marketing industry.
Seth Kelly, editor-in-chief of Muscle and Fitness magazines will act as editorial director of both magazines.
Jennifer Purdie has been named senior editor for Inside Triathlon. Previously, Purdie acted as publications manager for the National Academy of Sports Medicine.
Debra Kaufman has been named associate editor with CreativeCOW.net. Before this, Kaufman served as west coast editor for Film & Video and editor of DI Studio.
Ken Fuchs, an executive with Time Inc., has been tapped by Yahoo Inc. to oversee its sports, games and entertainment online properties.
Alan Rappeport is now a U.S. consumer correspondent with the Financial Times. Rappeport previously acted as a reporter with FT.
Lauren Tara LaCapra will now be a Wall Street correspondent with Reuters, where she will primarily cover Goldman Sachs and Morgan Stanley. LaCapra is a former finanacial services reporter with TheStreet.com.
Monique Lewis is now assistant editor with Mergemarket, a publication from the Financial Times Group. Before joining Mergemarket, Lewis wrote for two daily Gannet newspapers.
John Levesque, previously managing editor of Seattle Magazine, will now act as managing editor for Seattle Business Magazine.
Ashley Parrish will now serve as editorial director for Daily Candy. Parrish comes to Daily Candy from Hearst Digital Media, where she acted as content director.
Meet the Author
---