People on the Move | 3.15.12

National Journal, Vulture.com, Back Stage...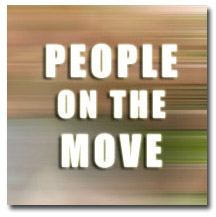 Susan Cummisky was named senior vice president of global human resources for Readers Digest Association, Inc. Most recently, Cummisky served as an independent consultant and leadership coach.
Meghan Neal is now senior news editor for The Huffington Post. Neal was previously an associate editor for the publication's healthy living section. Craig Kanalley returns to The Huffington Post as senior editor of big news and live events. Kanalley rejoins the publication from NBC News, where he was a social media editor. The publication has also named Ethan Klapper as it's social media editor for the politics vertical. Klapper previously served as an online editor at National Journal.
Back Stage has named Mark Peikert as New York Bureau Chief. Peikert previously was a managing editor at Manhattan Media.
New Media Strategies named Imani Greene vice president of media. Greene joins New Media Strategies from Ogilvy PR where she served as a vice president and media director.

Jessica Perry joined the National Journal to serve as digital vice president and general manager. Perry was formerly vice president of product planning for Conde Nast.
Vulture.com announced two new editorial additions. Jessica Grose will now serve as deputy editor, and Gilbert Cruz will now serve as senior editor. Grose joins Vulture.com from Slate, where she was a senior editor. Cruz joins from TIME where he was a senior online editor.

Kym McNicholas will join PandoDaily as executive producer. McNicholas recently served as a techonology anchor, reporter and producer for Forbes.
The Associated Press added Joyce Rosenberg as a full-time small business reporter. In addition to her newly enhanced role, Rosenberg will still continue to author her weekly column "Small Talk." Philana Patterson will now serve the small business editor for the AP. Personal finance editor Trevor Delaney will now also oversee the Money & Markets product at The Associated Press

POLITICO promoted Gregg Birnbaum to deputy managing editor. Birnbaum previously served as a senior editor for the publication.

Mary South is promoted to editor-in-chief of Yachting. South, previously a senior editor with the brand, is the first female editor-in-chief in the publication's history.
Meredith Corporation tapped Todd Tarpley to fill the role of general manager for Parents Digital Network. Tarpley formerly served as vice president of online for The Nielsen Company.
Martha Stewart Living Omnimedia named Laura Petasnick as vice president of integrated sales for Martha Stewart Living. Petasnick previously served as publisher for Rodale's Prevention and Prevention.com.

Monica Herrera is promoted to senior editor of RollingStone.com.  Herrera was previously an associate editor at Rolling Stone.

Accounting Today named Daniel Hood editor-in-chief. Previously, Hood served as the publication's managing editor.
Sarah Schaffer named president and editor-in-chief of Capitol File. Schaffer formerly served as the magazines publisher. 
Meet the Author
---