People on the Move | 3.1.12

Avenue, WSJ, The Huffington Post, Cooking Light...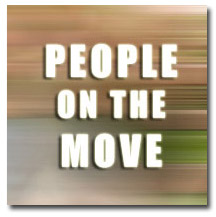 Real estate author Michael Gross has joined Avenue magazine as real estate editor. Gross authored  "740 Park: The Story of the World's Richest Apartment Building."
Karen Schuchardt was named senior vice president of digital media sales for Martha Stewart Living Omnimedia. Previously, Schuchardt served as Viacom's senior vice president of convergent sales.

Peter Nichols was named politics reporter at The Wall Street Journal in Washington D.C. Most recently, Nichols served as a Presidential campaigns reporter for The Los Angels Times.

The Huffington Post named Emily Cohn as editor of the publication's new money section. Cohn formerly served as associate blog editor for The Huffington Post.

Nelson Wang joined Yahoo! as personal finance editor. Most recently, Wang served as an editor for CBS's MoneyWatch.

The Real Deal promoted Katherine Clarke to reporter. Previously, Clarke served as an editorial assistant for the publication. Also, the publication has named Zachary Kussin as an editorial assistant. Previously, Kussin served as a multimedia reporter for The Local blog.


Bloomberg View appointed Katy Roberts to its editorial board in New York. Most recently, Roberts served as the week-in-review editor at The New York Times. James Gibney is joining the editorial board in Washington, D.C. Gibney formerly served as features editor at The Atlantic. Michael Newman has also joined the editorial board in D.C. He most recently served at Slate magazine as politics editor.
Eileen McCarthy is named executive editor of brand insights for Cooking Light and MyRecipes.  McCarthy formerly served as executive director of marketing and strategic planning for Bon Appétit.
TechRadar.com named William O'Neal as editor-in-chief. Most recently, O'Neal served as editor-in-chief for @Game magazine.
Forbes Media promoted Meredith Kopit Levien to chief revenue officer, and Mark Howard to the new position of senior vice president of digital advertising strategy. Levien previously served as publisher for the SVP/Group, and Howard worked in sales for SVP. Forbes also named Steve Bertoni associate editor of its global wealth team. Bertoni recently served as a reporter for the global wealth section.

Jessica Bennett, senior writer and editor at Newsweek and The Daily Beast, is now executive editor and special correspondent for Tumblr. In addition to her new role, Bennett will continue to serve as a contributing editor. Jesse Wegman also joined the publications as senior editor covering general and legal news. Wegman formerly served as legal editor for Reuters.

Politico Pro has named Keith Perine deputy technology editor. Perine formerly served as a technology reporter for Congressional Quarterly.
Jeff Kearns of Bloomberg News has moved from New York, where he covered stocks and options, to Washington D.C., where he will cover the Federal Reserve.  
Doree Shafrir has joined BuzzFeed as executive editor. Shafrir recently served as senior editor of Rollingstone.com. Buzzfeed also added Michael Hastings to the reporting team covering President Obama's re-election campaign. Hastings will continue to serve as a contributing editor for Rolling Stone.
TechCrunch has named Eric Eldon editor-in-chief. Previously, Eldon served served as a writer for TechCrunch, and is a co-founder of Inside Network. Anthony Ha will also join the publication as a writer and weekend editor, covering media and new technologies. Ha recently served as a technology writer for Adweek.
Peter Pachal has joined Mashable as a technology analyst. Pachal formerly served as news director for PC Magazine.

Chris Kentouris is named editor-in-chief of ISS-Mag.com.  Kentouris previously served as senior operations editor for Securities Technology Monitor, Money Management Executive and predecessor publication brands owned by SourceMedia.
The Root named Lauren Williams as deputy editor. Previously, Williams served as associate editor for the website.

Ben Johnson joined the editorial staff at GlobeSt.com and Real Estate Forum. Johnson previously served as editor of National Real Estate Investor and Shopping Center World.

Chris McLoughlin is tapped to fill the publisher role at Men's Journal. McLoughlin formerly served as associate publisher at Redbook and Redbookmag.com.
Meet the Author
---