People On The Move | 2.27.13

WIRED, EBN, Everyday Health, Pursuit Magazine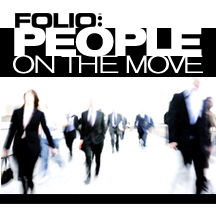 WIRED has named Joe Brown as New York editor. Brown was formerly an editor at Gawker Media's Gizmodo.
Frontline Medical Communications has named Lee Schweizer as manger of digital business development. Schweizer was previously in sales with the company's Quadrant Healthcom division.
Lisa Shroyer has been promoted to editor of F+W Media's Interweave Knits. Shroyer was previously editor of the company's Knitscene.
UBM Tech has named Brian Fuller as editor-in-chief of EBN. Fuller was serving as a bureau chief for the company's EE Times.
Meredith has named Stan Pavlovsky as senior vice president of Meredith National Media Group and president of AllRecipes.com. Pavlosky was previously vice president of ecommerce at Drugstore.com.

Everyday Health has promoted Paul Slavin as chief operating officer. Slavin was serving the publication as its senior vice president and general manager of global news.

Jonas Lindeborg has been named chief technology officer at mBlox. Lindeborg was formerly senior vice president of mobile platforms at Mashmobile.

Pursuit Magazine has named Thomas H. Humphreys as executive editor. Humphreys was serving as owner and lead investigator at [Find] Investigations.

Eamon Lynch is now managing editor at Golf.com. Lynch was previously executive editor at Golf Magazine.
Glamour has expanded its features department with four new hires and a promotion:
Sophia Banay Moura joined as deputy editor, articles. She was most recently features editor at Marie Claire.
 
Genevieve Roth is now special projects director, responsible for the Women of the Year event, as well as editorial partnerships and cross-platform projects.
 
Andrea Bartz has joined as senior editor and will focus on Glamour's health coverage.
 
Jason Sheeler is now articles editor, working on the magazine's culture and celebrity coverage. Sheeler most recently wrote for Texas Monthly, The Dallas Morning News, D Magazine and more.
 
In the meantime, Mikki Halpin has been promoted to deputy editor, articles and will spearhead the magazine's special issues, including the upcoming Fall Fashion guide.
Jared Shapiro has been named editor-in-chief of Ocean Drive beginning mid-March. Shapiro comes to Niche Media from Bauer Publishing where he served as editorial director, news & entertainment of In Touch Weekly and Life & Style Weekly. Shapiro has travelled to Miami frequently over the past decade while covering celebrities, dining, and nightlife. He'll be relocating to Miami for his new position editing the 20-year-old magazine that covers the distinct fashion and lifestyle of the South Florida scene.
 
Meet the Author
---