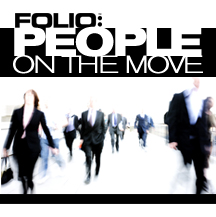 Suzy Draddy Jacobs has been named publisher of Capitol File magazine. Most recently, Jacobs served as vice president of the Mid-Atlantic and Southeast region for The Week.
Genesis Media has hired Marc Podell as vice president of sales. Podell joins from the branded content firm Jun Group.
Bronwyn Barnes has been named senior style editor at People. Barnes previously served as senior editor at Entertainment Weekly. 
VentureBeat has announced several editorial shifts:
Jolie O'Dell has been named managing editor. O'Dell joined the company as a technology and business writer. 
Harrison Weber is now news editor, New York desk. Weber recently helped launch FullStart, an education-focused publication powered by 100+ contributing entrepreneurs.
Devindra Hardawar has been appointed senior editor. Hardawar started VentureBeat's New York bureau in 2010.
Christina Farr has been hired as an investigative reporter. Farr was previously a contributor to the San Francisco Chronicle, The Next Web and Digital Trends. 
Richard Byrne Reilly has joined as a reporter on the San Francisco desk. His work has appeared in New York magazine, FoxNews.com, the New York Post, among others.
Eleanor Barkhorn has been promoted to senior editor at The Atlantic. Previously, she was the editor of the Sexes channel.
The New Republic has announced staff changes:
Rebecca Traister has been named as a senior editor. Traister is a prizewinning author and former writer for Salon.com.
Evgeny Morozov has been promoted to senior editor. He previously served TNR as contributing editor.
Erik Carlson has joined as director of integrated advertising. Previously, Carlson was a sales executive at Say Media.
Diana Ryan has been hired as integrated marketing manager. Previously, Ryan was a senior coordinator of content and programming at The Atlantic
StyleBistro has named Cristina Velocci deputy editor. Velocci joins from Time Out New York, where she served as senior associate fashion editor.
Gary Ellis has been appointed chief digital officer at Hearst Magazines International. Ellis was previously vice president, international digital media for Viacom Media Networks.
Rachel LeWinter has been named senior market editor at US Weekly. She previously served as shopping and style editor at Time Out New York.