People On The Move | 10.4.12

Better Homes and Gardens, New York Magazine, CNNMoney...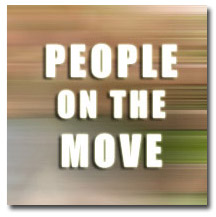 Benjamin Gilbert is now senior associate editor for Engadget. Gilbert was formerly a senior reporter at Joystig.

New York Magazine has named Kat Stoeffel as an associate editor of "The Cut." Stoeffel was previously a reporter at The New York Observer.

Stephen J. Grande has been named senior vice president of operations and manufacturing for Summit Business Media. Grande joins the company from Fry Communications Inc., where he served as vice president of sales.
Better Homes and Gardens has made recent editorial changes. Gregory Kayko is now managing editor. Kayko had been serving as an editorial director for the Meredith Corporation. He is replacing Lamont Olson, who is retiring. Kelly Ryan Kegans has been promoted to senior deputy editor, home design. Kegans was serving as assistant deputy editor for the magazine. She replaces Oma Blaise Ford, who is now executive editor of the magazine.
Meredith Corporation has named James Van Fleteren as creative director of the EatingWell Media Group. Van Fleteren joins company from his design firm, The Van Fleteren Group.
Ars Technica has made recent editorial changes. Lee Hutchinson has been tapped to serve as senior reviews editor. Hutchinson has previously worked for The Boeing Company, EMC, and most recently Symantec. Florence Ion has been named as a reviews editor. Ion was previously managing editor for Mac | Life. Joe Mullin has joined as a tech policy editor. Mullin has served as a legal reporter for paidContent and American Lawyer Media.

Pallavi Gogoi has been named news editor for CNNMoney.com. Gogoi most recently served as a business writer for The Associated Press. Mark Thompson has joined CNNMoney magazine as assistant managing editor. Thompson formerly lead news teams in Europe, the Middle East and Africa at Reuters.  

Jihan Thompson is now health editor for O, The Oprah Magazine. Before joining the magazine, Thompson was an articles editor for Redbook.

Crain's New York Business has announced that Theresa Agovino will now lead the arts, culture and higher education beat. Agovino previously covered commercial real estate for the publication.

Nick Leftley has been appointed as an executive editor at Maxim. Leftley was previously a senior content editor at the magazine.
Meet the Author
---