People On The Move | 1.3.13

Barron's, Marie Claire, OK! and CQ Roll Call...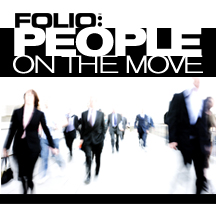 Marie Claire has promoted Erin Flaherty to beauty and health director. Flaherty was previously the executive beauty editor for the magazine. Also, Whitney Joiner has been appointed as a senior editor. Joiner was previously a freelance writer for a number of publications including Elle, Glamour and Woman's Day.
Kevin Quinn has been named director of sales at Fry Communications, Inc. Quinn most recently served as sales director at Ariva Print Communication Solutions.

CQ Roll Call has named Randy Wynn as its chief news editor. Wynn was serving as the magazine's deputy executive editor.
Kelli Acciardo has been named deputy editor at OK! magazine. Accardio joins the magazine from Seventeen, where she was a Web editor.
Mark Hamrick is now Washington bureau chief for Bankrate.com. Hamrick was most recently a business reporter at The Associated Press.
Barron's has named Sam Mamudi as its lead blogger for its Stocks to Watch blog. Mamudi was previously a reporter at MarketWatch. Avi Salzman is leaving the Stocks to Watch blog he was overseeing to work on Barron's magazine as a staff writer. Ben Levisohn has joined the company as a columnist and lead writer for its Emerging Markets Daily blog. Levisohn was formerly a reporter for The Wall Street Journal. Reshma Kapadia who was overseeing the Emerging Markets Daily blog will now join the magazine as a staff writer.
F+W Media has named Jim Ogle as its chief operating officer. Ogle was previously chief financial officer at Cygnus Business Media. 
Meet the Author
---