People On The Move | 1.17.13

Gawker, Real Simple, US Weekly and Allure...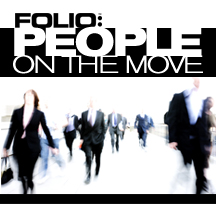 Dominic Aratari has been named art director of CNNMoney.com. Aratari previously served as interactive art director for Sports Illustrated.

Real Simple has named Page Mullins as its assistant market editor. Mullins formerly held an editorial position with Country Living.

Jill Seelig has been promoted to senior vice president, publisher and chief revenue officers of O, The Oprah Magazine. Seelig was previously serving as the company's publisher.

Food & Wine has appointed Jennifer Bayard as digital sales director. Bayard was serving as digital account director at Glamour.com.

Daniel Borchert has been named account manager at DEPARTURES. Borchert joins the company from TheDailyMeal.com, where he was the national sales director.

Coastal Living has named Steven Cardello as its integrated account manager. Cardello previously held the same title at Southern Living.

New York Magazine has named Genevieve Smith as its senior editor. Smith was formerly an associate editor at Harper's.

Alyssa Hertzig has returned to Allure as a contributing special projects editor. Hertzig had served as a contributing executive beauty editor for the magazine in the past.
Gawker Media has made changes to editorial staff: John Cook has been promoted to editor-in-chief at Gawker. Cook was previously a senior writer for the publication. Tom Scocca is now deputy editor at Gawker. Scocca was previously managing editor for the company's Deadspin brand. Emma Carmichael will now serve as managing editor of Deadspin. Carmichael was previously the managing editor at Gawker.

Surface has promoted Spencer Bailey to articles editor. Baily was serving as the magazine's assistant editor.

Lisa Clune has been named senior vice president and general manager of Meredeth Xcelerated Marketing's Health Practice, BIG Communications.  Before joining MXM, Clune was president of UL EduNeering.

Mary Kate McGrath has been named editor-in-chief at PureWow. McGrath was previously a senior editor at Real Simple.
Conde Nast has named C. Spencer Beggs as its senior software engineer. Beggs was previously a freelance Web developer at Showtime.

Justin Ravitz has been named deputy editor, online, at US Weekly. Ravitz was previously a senior editor at the magazine.

Gregory Gatto has been promoted to publisher of The Bonnier Corporation's Field & Stream, Outdoor Life and Shot Business. Gatto was previously director of advertising for the company. Eric Zincenko has been named executive vice president at The Bonnier Corpotation. Zincenko was formerly executive vice president of the company's men's group.

The Financial Times has named Tas Viglatzis as its chief financial officers and as a member of its board of directors. Viglatzis was serving as director of strategy for the company.

Mikko Takkunen has been named photo editor at Time.com. Takkunen was working as a freelance photographer before joining the site.
Better Homes and Gardens has named Christina Poletto as its lifestyle editor. Poletto was serving as the magazine's senior publicity manager.
Meet the Author
---