People Magazine Launches Custom Social Platform

Designed for in-site interaction and sponsorship opportunities.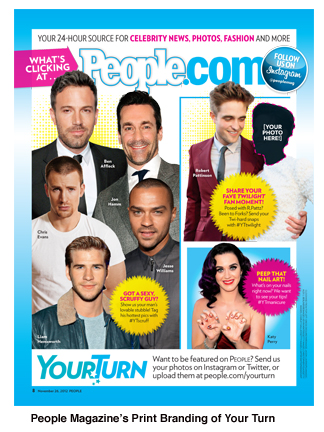 As more and more women turn to social media for information and interaction, so is People magazine. The Time Inc. title has launched "Your Turn" within its website—its own social platform that allows users to contribute to and share with People.com.
By visiting YourTurn.People.com users can upload photos for various "challenges" that are tied to engaging news or trending topics on the site. To participate, a user shares images from Facebook, Twitter, Instagram or a desktop computer. Submissions are also collected from different social networks by using a People.com determined hash tag that coincides with a specific challenge.
"We've been collecting user photos over the past few years—we've offered a lot of different challenges for readers, from Halloween to show us your cute pets," says Janice Morris, managing editor for People Digital. "But we never had one place to house all the images and we never did it consistently, instead treating it as a special event. We wanted to give readers more of a turnkey platform to work with because it's so easy to upload now with all the social tools, and hash tags make it easy to share and communicate."
To take advantage of the presidential election buzz, for example, People asked readers to share pictures of themselves voting. Using the hash tag #YTIVoted, users could tweet or use Instagram to share their images with the magazine, which were then uploaded to this social platform in the "Share Your Voting Pics" challenge section. Morris says the brand hopes to roll out a new challenge everyday, though testing is still taking place to determine the best frequency.
"If you look at the main page of Your Turn, one of the tabs is called partners," says Morris. "If you click on that you will see that Cotton is there. It's built so multiple advertising partners can live in that space."
There are also banner ads on the Your Turn site from its sponsorship partner and the company also has a user challenge associated with it: "Got the hottest cotton street style in the country?" Users are encouraged to post outfits that have a cotton element for a chance to win a trip to a Cotton runway show.
It took People about six months to develop and execute the plan, which uses a landing page within its site and Olapic software, which is designed for posting customer photos to a brand site. Since users can upload photos through an existing profile account by using a social login, People will also have access to data from social networks like Facebook. Additionally, in order to submit a photo, a user must input their name, location and email address, providing more data points for the brand.
"We're going for the greatest reach possible with this one," says Morris of the group's promotional efforts. "We have dedicated space on the homepage itself and throughout the site there are call-outs on the main channel pages. We'll also try to catch readers as they come to the site through articles and galleries with visual cues. We're using our social outlets like Instagram as well as Twitter and Facebook. More importantly, we're moving it into the print space—we have taken over our dedicated dot-com space in the magazine and are asking readers to participate in addition to the Web users. We're taking advantage of what our readers are already doing and trying to encourage them to do it more."
Stay updated on the latest FOLIO: news, follow us on Facebook & Twitter!
Meet the Author
---