People Magazine Founder Dies

Richard Durrell was 82.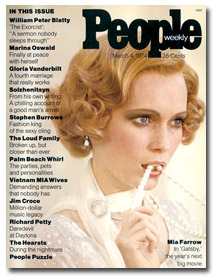 Richard Durrell, the founding publisher of People magazine, died Friday at his home in Fairfield, Connecticut. He was 82.
Durrell joined Time Inc. as a circulation newsstand rep following graduation from the University of Minnesota in 1948.
He became publisher of People's test launch in 1973.
"The sales far exceeded our expectations," Durrell said in a 1987 interview with the Connecticut Post. The magazine launched nationally in 1974, the first issue featuring pearl-biting Mia Farrow on its cover.
"At the beginning of People, there was a journalistic watershed," Durrell told the Post. "There were mass movements, Watergate, Chappaquidick. People were interested in individuals. People magazine tried to describe what a person was about and go beyond the surface of that person."
Durrell retired in 1984.
A memorial service will take place April 5 in Fairfield.
Meet the Author
---