People Integrates Celeb Social Posts Into New Vertical

Celebs, advertisers able to connect social with established media in real time.
Time Inc.'s People and WhoSay, a digital-only social magazine powered by the celebrities it features, have teamed to develop a new branding opportunity for stars and advertisers. Launched March 26, about 200 of WhoSay's 1,500 celebrity members were invited to populate a new People.com vertical called "Celebrities Unfiltered" where the stars can directly publish photos they've taken via WhoSay to People's website.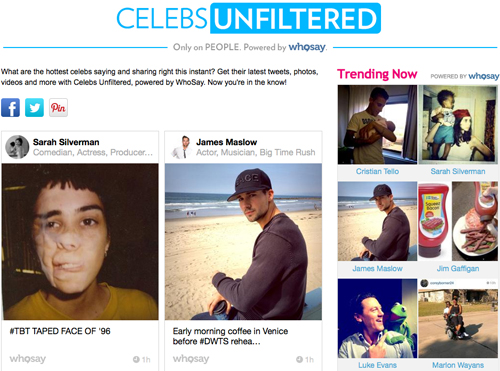 "When WhoSay launched in 2010, we had an established editorial relationship with them because celebrities started quickly using their platform to post and manage their social media accounts," says Liz White, vice president and general manager at People Digital. "The larger partnership was very much born out of that existing relationship and the fact that these two companies, People and WhoSay, are so complimentary."
WhoSay's ties with big-name celebrities can be traced to the relationship between co-founders Steve Ellis and the Creative Arts Agency, a top-tier talent and sports agency. WhoSay's 1,500 celebrity members combined have more than 1 billion social media connections, while the People brand reaches more than 53 million consumers weekly.
"There are some super contributors to WhoSay," says People Digital editor Janice Morris. "People like Nina Dobrev (actress, "The Vampire Diaries") are vey popular, very active and have high followings."
Where celebs flock advertisers are sure to follow. While terms of the deal are undisclosed, White notes People has "already monetized this deal in a significant way." Via this venture, advertisers can concurrently associate with  WhoSay's celebrity members and the authority of People's editorial team.
"The idea is for the People sales and marketing team to partner with the WhoSay sales team to bring large compelling ad opportunities to our most valuable clients," White says. "That's a big part of this deal."
The prospects would likely center on red carpet events, special issues such as "People's Sexiest Man Alive" or even digital verticals such as celebrity moms or pets.
"We see this as a first step to bring fans a deeper experience that leverages the content and perspective of People's editorial with WhoSay's unfiltered flow of content to give fans a real-time perspective from the celebrities themselves," says Ellis in a statement.
This real-time aspect is critical to the current consumer market where readers want instantaneous delivery of news about their favorite celebs. This constant influx of content will also feed the editorial side of People both digitally and in print. Plus, news stories from People.com will also be integrated into WhoSay's "Top Stories" designation.
"It's a new way to source content," explains Morris. "We might be able to turn these photos that celebrities are posting on the site into larger features like stories, galleries, items on the homepage. If we find a really good photo, it could be across the site."
Meet the Author
---