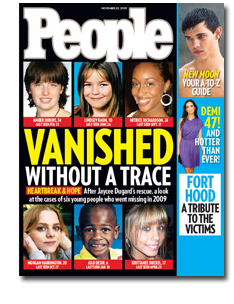 People continues its reign as the magazine title with the largest audience by drawing in 45.1 million adult readers, according to top-line readership data from Mediamark Research Inc.'s fall 2009 report, which surveys circulation, audience and readers per copy. People also saw the largest growth in readership: a 3.4 percent increase compared to MRI's spring 2009 report.
Better Homes & Gardens comes in again at number two with 38.9 million readers—a slight decrease from six months prior—followed by AARP The Magazine (35.7 million), National Geographic (31.7 million) and Reader's Digest (31.6 million). AARP still has the highest circulation at 24.3 million followed by Reader's Digest (8.1 million) and Good Housekeeping (4.6 million).
Within the last six months, only four titles saw an increase in readership: People, Good Housekeeping (+1.2 percent), Sports Illustrated (+0.9 percent) and AARP (+0.2 percent).
National Geographic again drew the largest male audience in terms of demographics with 17.4 million readers, while People drew the largest female audience with 31.38 million readers, narrowly beating Better Homes & Gardens (31.3 million), which was in the top spot six months ago.
Enthusiast titles are again drawing in the most readers per copy with PC Gamer at the top (26.2 readers per copy) followed by Bridal Guide (24.5) and Official Xbox Magazine (20.2). Reflecting the decreasing viewership of daytime soap operas, Soap Opera Weekly saw a 14.3 percent decline in its readers per copy during the last six months.
Circulation (as provided by ABC or BPA)
1. AARP The Magazine | 24.3 million
2. Reader's Digest | 8.1 million
3. Good Housekeeping | 4.6 million
4. National Geographic | 4.5 million
5. Woman's Day | 3.9 million
Audience
1. People | 45.1 million
2. Better Homes & Gardens | 38.9 million
3. AARP The Magazine | 35.7 million
4. National Geographic | 31.7 million
5. Reader's Digest | 31.6 million
Readers Per Copy
1. PC Gamer | 26.6
2. Bridal Guide | 24.5
3. Official Xbox Magazine | 20.2
4. Soap Opera Weekly | 18.9
5. American Woodworker | 17.4