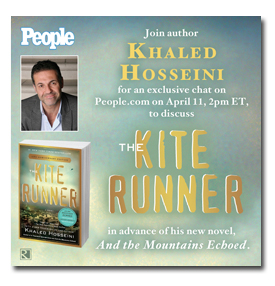 People magazine is best known for its coverage of celebrities, gossip and entertainment, but the brand has begun edging deeper into the general lifestyle category with the introduction of a new editorial project that rolled out last week.
Khaled Hosseini, author of the best-selling novel The Kite Runner, conducted a live Q&A with the People.com audience on Thursday—the chat lasted more than an hour and more than 670 users submitted questions online. More than half the users stayed to participate for over 30 minutes, with another two thirds of users staying for over 20 minutes.
The online event is a far fall from its coverage of Hollywood drama, and shows that People is making an effort to incorporate more literary and lifestyle content. 
"We just started a new franchise about a month ago called 'What We're Reading,'" says Janice Morris, managing editor for People Digital. "Every Thursday we've started posting what the staff book picks are—it's more of a companion piece to the book picks that are in the issue every week. We have formal reviews in the print issue of what's new and what's out, and People.com's 'What We're Reading' is about what [editors] are looking at on their own nightstands. We've started going into books online slowly in that way."
Morris says that the posts about staff literature choices have been generating engagement from readers in the form of comments, likes and tweets.
"That tells the story in itself—people are taking the time to appreciate what the People staff are reading, and they're taking the time to share what they're reading right now," she says. "It plays into a larger piece of where we're going with the website, which is more into lifestyle and service content. We also want higher reader engagement with more interactions."
People has already been soliciting readers to participate directly on their website—in November the site launched a custom social platform called "Your Turn," which allows users to contribute and share photos to People.com. The site has also increased the number of online polls and is asking readers to comment more frequently.
See Also: People Magazine Launches Custom Social Platform
"It comes full circle with this book chat," she says. "We're putting this author in direct contact with our readers who are already ready to chat, talk and engage."
Morris says this chat did not have a sponsor and instead was purely an editorial play, though it is possible a partner could come on in the future. The editor says that the brand is hoping to introduce more new initiatives like this going forward.
"It's something I consider as a kick off to doing more book chats, and we do hope to make it more of a regular feature," she says. "We'll take some time to evaluate how the promotional and social strategy worked—this one was more of an experiment, and I would say it was a successful one."
Stay updated on the latest FOLIO: news, follow us on Facebook & Twitter!