People.com Launches Country Channel

Vertical will feature exclusive music debuts, videos, photos and more.
Time Inc.'s People launched a brand new vertical on People.com this morning—a Country channel that's one-stop-shopping for genre super fans.
"For us, Country is part of the larger landscape that is Hollywood," People Digital editor Janice Morris told FOLIO: exclusively. "We recognized that it's not just a type of music, it's a lifestyle that we've seen over the years permeate into other areas."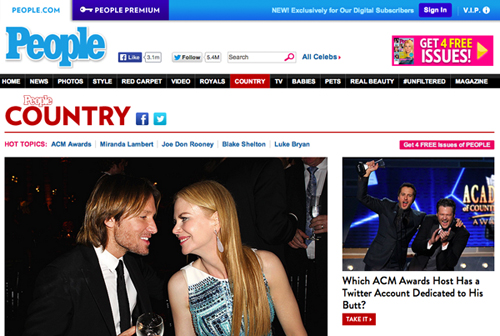 Country coverage is very much part of People's DNA with pointed coverage of superstars and up-and-comers beginning more than a decade ago, including the launch of a special Country newsstand issue 10 years ago.
"[Country's] been embraced by the larger culture and I think that's what we're reacting to," Morris says. "The reality is that these stars, they're part of our mainstream culture and part of the coverage that's People overall."
Blake Shelton has been a breakout star in the last few years thanks to his starring role as a judge on NBC's singing show "The Voice" while his wife Miranda Lambert has become a fashion darling in People's Style section and Trisha Yearwood has rebranded herself with her southern-style cooking show on the Food Network.
Morris says People's Country channel is an opportunity for editors to not just cover the big stars, but also feature emerging talent too.
"We have done video exclusives with The Band Perry, Gloriana, Florida Georgia Line. We were one of the first to feature Lady Antebellum's music," notes Morris. "We've gotten behind stars before they're big."
It's not just reader interest that prompted the creation of the vertical, but big data helped drive the decision.
"We're there for every big awards show in the country market," says Morris. "Those nights bring in droves of unique users and we get massive page views from it."
To support the extra coverage, the title rearranged editorial duties having People's assistant managing editor Cynthia Sanz lead all Country content for the brand by overseeing a small group of staffers that "have specialty in Country" located both in Nashville and New York City.
The 2014 Country issue of People hit newsstands and tablets last week.
Meet the Author
---