People Adds Value to Subs With New App

People's new app adds "mobile anchor" to subscriptions.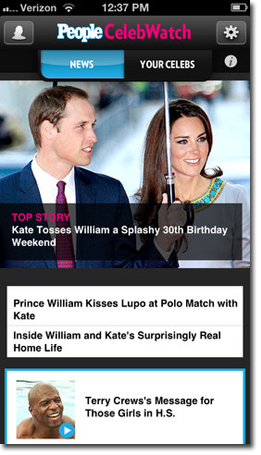 In an attempt to add value for existing subscribers, People has launched an integrated news and social app, CelebWatch.
The app itself is a customizable mix of People.com content and celebrity Twitter accounts. Users can pick and choose which personalities they'd like to receive news, photos, commentary and push messaging about.
More importantly, it's a way to add a "mobile anchor" for People subscribers, says Liz White, GM of People Digital.
"We're expanding the value proposition of their subscriptions," she says.
Already paying over $100 a year for the print-digital package-along with access to digital editions via mobile device-the app is available to subscribers for free. Non-subscribers can purchase it on iOS or Android operating systems for 99 cents per month or $9.99 for the year.
"We wanted to make sure that this new product is an added value to our existing subscribers, so the value that we put on it of $10 per year feels like a great addition to their subscription," says Kim Miller, VP of consumer marketing for People. "We also wanted to make sure it was a palatable entry price, so we felt like 99 cents per month was a reasonable entry fee."
While luring new users is part the launch, converting them into full subscribers is not a focus right now, White and Miller admit. Their top marketing priority is building awareness of the app.
An earlier version of the app, People Celebrity News Tracker, is no longer for sale, but will continue to be supported with content and advertising while People transitions users to the new platform. No date has been set for when the earlier version of the app will be officially dropped.
To stay updated on the latest FOLIO: news, become a Facebook fan and follow us on Twitter!
Meet the Author
---