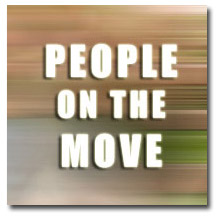 The Hollywood Reporter has named Michaela Apruzzese associate publisher of entertainment. Apruzzese currently serves as director of movie advertising for Los Angeles Times Media Group, which publishes the Los Angeles Times.
Parade magazine named Maggie Murphy editor and editorial director of Parade Publications. Previously, Murphy served as executive editor of Time Inc.'s People. Her appointment is effective June 14.
ALM has elected Charles Siegel to its board of directors as a non-executive chairperson, serving as an advisor to ALM's CEO William Pollak and senior management. Formerly, Siegel served as president of the Academic & Professional Group for Cengage Learning.

David Griffin has been promoted from director of photography at National Geographic to the newly-created position of executive editor of electronic publishing at National Geographic and National Geographic Traveler. Meanwhile, former National Geographic photo editing manager Kurt Mutchler was named executive editor of photography.
Boston magazine promoted Brittany Jasnoff from assistant managing editor to managing editor, replacing Jennifer Johnson, who left the company in March. In addition, Christy DeSmith was named senior editor and Chin Wang was appointed design director.
PWxyz LLC, the company that acquired Publishers Weekly last month,  elevated a number of its staffers to vice presidents, including publisher Cevin Bryerman; co-editorial director Michael Coffey; business and finance editor/co-editorial director Jim Milliot; and Diane Roback, children's book editor. In addition, Craig Morgan Teicher rejoined the magazine as senior Web editor and Ryk Hsieh was named Web producer.
Women's Health has named Sara Culley senior managing editor. Most recently, Culley served as managing editor of Elle.
Scientific American promoted Mike Florek to executive vice president. Most recently, Florek served as vice president of finance and business development.
Dowden Custom Media, a division of Lebhar-Friedman's Dowden Health Media, appointed Sid Gokhale president. Previously, Gokhale served as senior vice president at eCrossings Media.
Former Playboy.com editor Scott Smith was named director of digital strategy and development at Chicago magazine. Smith left Playboy.com in March after serving as editor for seven months.
Meredith Corp. appointed Daren Mazzucca publisher of Midwest Living, replacing Brian Kightlinger, who was named associate publisher of Parents magazine. Most recently, Mazzucca served as associate publisher of Good Housekeeping.
Bonnier Corp. announced a pair of personnel changes to its corporate sales team: ex-Vanity Fair account director Vanessa Nilsson was named West Coast corporate sales director and Laura Ryan was promoted from eastern sales manager at Ski and Skiing to East Coast corporate sales director.
Golfweek appointed Jason Redditt as publisher, succeeding Clayton Morris, who was promoted to group publisher. Most recently, Redditt served as advertising director for equipment and apparel. The magazine also named travel and non-endemic advertising director Jereme Day associate publisher.
Targeted Media Inc., a division of Time Inc., named John Schaetzle account manager.Previously, Schaetzle served as marketing manager of American Express Publishing's Corporate Integrated Marketing and Sales.
Jonathan Chalon was named executive vice president of sales at online communities operator Toolbox.com. Previously, Chalon served as vice president of Penton Media's entertainment technology division. Before that, he held positions at Variety, Spin, The Industry Standard and Inc.