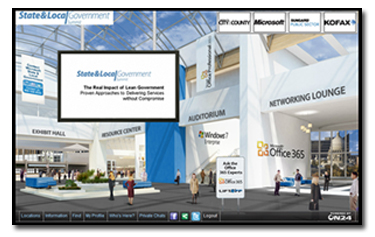 Penton Media's American City & County magazine, a monthly b-to-b publication serving the state and local government markets, is driving audience development and ROI with virtual events. The title's State and Local Government Summit (pictured), which launched five years ago, is delivering a variety of paid sponsorships and cultivating valuable connections with readers.
"The audience comes for a reason—to learn some things and talk with people from other (municipal) counties," says Bill Wolpin, editor and publisher of American City & County. "I can stop and ask people questions and talk with people. Publishers should consider virtual events—if they're already doing webinars, they're half way there. A virtual event is a webinar on steroids and I would strongly suggest media companies look into it because it is an ideal way to engage your audience and make a difference that will continue to pay benefits in terms of audience and advertiser engagement."
Wolpin says that the publication has seen individuals staying longer and longer in the virtual event each year—an opportunity for the brand to capture the attention of its core audiences, while also pleasing its sponsors. Additionally, the event has grown from 600 to almost 2,000 attendees since its initial launch.
"Attendees can gather information from the different companies," says Wolpin. "There are also opportunities to go into resource centers and gather documents from different exhibitors, in addition to going to the exhibition halls. Attendees can also sit and talk with their peers."
During the 2011 event there were 19 digital exhibitor booths and six webinars sessions that provided industry-related content. Several magazine advertisers are also sponsors of the virtual event, which uses the ON24 Virtual Show platform. The magazine leverages its print product to promote the virtual event, in addition to posting on social networks and to its own website.
"We're using more than one medium to express subjects of interest," says Wolpin. "We tend to set up the virtual event to drive attendees to the webinars because that's the main event."
The webinars are editorially driven and serve as the session tracks for the daylong virtual conference. During the virtual event there is a dedicated booth for the magazine where representatives try to secure subscriptions from those who are not already subscribers.
B-to-b media revenue hit $26.49 billion last year, with revenue from trade shows, events and conferences rising to 40 percent of that total, according to American Business Media. While many are still utilizing face-to-face events, Wolpin says a virtual show can sometimes be more valuable to attendees.
"The reason we have a virtual event instead of an in person event is because there's no time or money required on the part of the person who attends," he says. "It's easy and it's no harder than picking up a magazine—they turn on a computer and click on a few places. Five years ago, budgets were being cut and we've had a few recessions in the last decade. Each one took its own pound of flesh in terms of travel budgets for state and local governments and has reached greater proportions today. Virtual events are a convenient and no cost way to get at least part of what you would get at a live show."