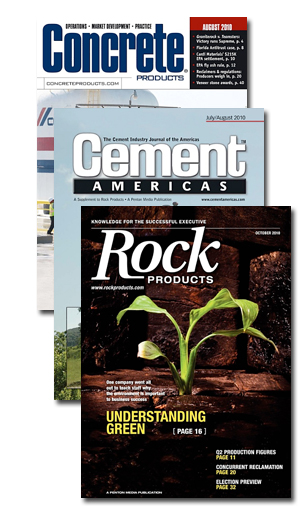 Denver-based Mining Media International has acquired a trio of magazines from Penton Media's electrical systems, energy and construction group. Included in the sale are Cement Americas, Concrete Products and Rock Products.
When contacted by FOLIO:, a Penton representative confirmed the deal but declined to disclose the financial terms. The rep said the sale was an isolated "business decision" and was not part of a larger strategy to sell Penton properties.
According to Mining Media International president Peter Johnson, Rock Products and Concrete Products will continue publishing on a monthly frequency and Cement Americas will remain as a bi-monthly supplement to Rock Products. He tells FOLIO: that several but not all Penton employees associated with the brands will join Mining Media.
Concrete Products carries a circulation of 17,700 while Cement Americas and Rock Products have a combined average circulation of 21,200, Penton says.
Mining Media International was formed in 2003 when the group acquired Engineering and Mining Journal and Coal Age from Primedia. The company also publishes The Asia Minor and C&D World (a partnership with the Construction Materials Recycling Association).
With the acquisition, Johnson says Mining Media is expected to generate more than $10 million in revenue in 2011.