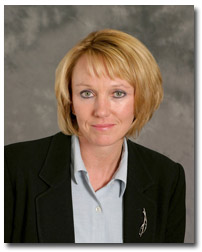 Three months after being named the new CEO of Penton Media, former Thomson Financial president and chief executive Sharon Rowlands late Friday reorganized the company around 13 market-focused segments, grouped under five umbrella groups.
According to Rowlands [pictured], the reorganization will organize Penton "logically for our customers (content users, advertisers and attendees), employees and partners."
The five new groups include: industry; agriculture, food and marketing; lifestyle; technology; and financial services. They will be led by their respective group leaders, the company said. Individual segments will include all magazines, Web sites, events, directories and data products associated with that particular market.
Each segment will be further managed by a nine-member executive committee. Among the committee members are Rowlands, CFO Jean Clifton and Warren Bimblick, who will now serve in the newly-created role of senior vice president of strategy and business development.
Penton's digital operations will be folded into the market segments with minimal central infrastructure support. As a result of the reorganization, senior vice president Shawn Etheridge and Jim L'Heureux, senior vice president of digital, are no longer with the company. Penton hired L'Heureux in July to eventually replace vice president of new media Prescott Shibles, who resigned last fall.
No other layoffs were made and no products were closed as part of the reorganization, Bimblick told FOLIO:.
In November, Penton combined its print-focused audience marketing, online subscription management (SMT) and e-mail services groups to form one audience development group.
In recent months, a number of other publishers have instituted similar reorganizations. In August, Source Media underwent a sweeping reorganization that concentrated its more than 60 magazines into four business groups—banking, capital markets, technology and professional services—and recast editorial staffs for each individual brands by rolling editors into combined units and pooling writers.
In October, F+W Media announced a reorganization that grouped its products according to "communities," not by channel.