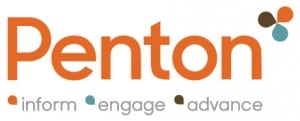 Penton is refinancing its existing debt and has secured a credit facility of nearly twice its annual revenue.
Exact terms of the refi weren't shared, but the company says it's been extended a $715 million line of credit.
As part of the announcement, Penton also released revenue estimates for 2013, putting its total at $370 million. Digital and events divisions are each expected to generate $100 million for the company—75 percent of total EBITDA—as it shifts from a b-to-b publisher to a "professional information services company." EBITDA margins are projected to reach 34 percent.
David Kieselstein, Penton's CEO, says the company will pursue growth via strategic acquisitions—they've had two in the past year, buying Farm Progress and Aviation Week—and organically. He says Penton is planning eight new product launches focused on end-user utility before 2014.
"We expect to expand our topline growth in data, digital and events business lines with these new product introductions," Kieselstein says in a statement. "With attractive long-term financing in place, we are in a real position of strength."
The move appears to be a positive step after Penton entered bankruptcy in early 2010. The company reduced its debt by $270 million and received an undisclosed amount of capital under that agreement. Then-CEO Sharon Rowlands resigned a year-and-a-half later, replaced by Kielselstein in January 2012.
Tom Kemp, one-time Penton CEO and current CEO of Northstar Travel Media, says the move is positive sign for both the company and the b-to-b media industry as a whole.
"The ability to complete this refinancing at 5-plus-times leverage is the result of the significant improvement of financial performance and margins by Penton as well as the successful execution of the company's strategic plan and leadership," he says. "Timing has also had an impact with improving credit markets and leverage in the financing markets."
"It is also good news that lenders are again embracing and financing integrated b-to-b media companies that have achieved growth and success," he adds. "It is great news for the entire industry."
Penton is the latest publisher in a string of others to restructure its debt under more favorable terms. American Media Inc. and Source Interlink each completed similar deals in the past 90 days.