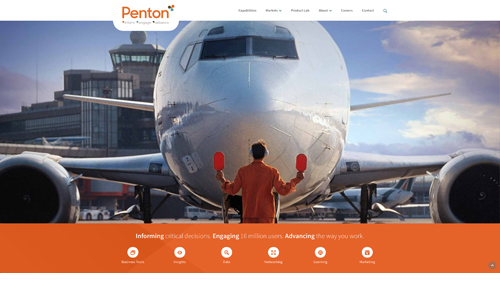 Whatever happened to "publisher"? Across the market that term is being retired in favor of descriptors that refer to emerging lines of business that are quickly overtaking the print platform. A recent example is Penton, a "former" B2B media company that serves 16 markets in five sectors. The company today announced a major corporate rebranding initiative that positions it as an "information services" business.
Looking closely, the description isn't that far-fetched, especially in B2B media. After all, the trade press has always been about connecting buyers and sellers through high-quality information products. But CEO David Kieselstein notes that events, digital and marketing services are the biggest and fastest-growing revenue streams.
"Events are now our largest revenue stream and growing at near double digits," he says in a statement about the new branding. "Our digital and marketing services business is close behind in size, and is growing even faster, well into the double digits. Few people realize that these are now our two largest revenue streams."
The company says marketing services has 20 percent annual growth. 2013 revenue, according to company financials, was $364 million. EBITDA was $127 million. Capital expenditures last year were $10 million.
Events account for the largest percent of profits, at 41 percent. Print and digital are almost the same, at 29 percent and 30 percent, respectively.
A new tagline, "inform, engage, advance", highlights the company's mission.
Kieselstein adds that the company will continue to be acquisitive in 2015. It's made several in the last couple years, including data company Highline, Farm Progress Companies and McGraw Hill's Aviation Week.