Penton Names New CEO

Sharon Rowlands to replace John French.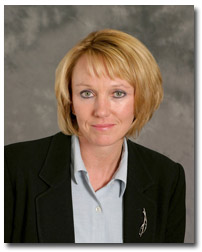 Penton Media has named former Thomson Financial president and CEO Sharon Rowlands [pictured] as CEO.
Rowlands will replace John French, who announced he was stepping down from the chief executive position in July.
The press release is below.

NOTE: Check foliomag.com throughout the day for more on this breaking story.
SHARON ROWLANDS, FORMER THOMSON FINANCIAL CEO, NAMED CEO OF PENTON MEDIA
NEW YORK, OCTOBER 7, 2008 – Penton Media, Inc., the largest independent business-to-business media company in the U.S., today announced that Sharon Rowlands, former President and Chief Executive Officer of Thomson Financial, has been named Chief Executive Officer of Penton Media and will join the Penton Board of Directors.  Ms. Rowlands succeeds John French, whose departure was previously announced.
Ms. Rowlands served as President and Chief Executive Officer of Thomson Financial, a $2 billion revenue business, from 2005 to 2008 after serving since 1996 in various senior management positions including President and Chief Operating Officer.  During her tenure at Thomson Financial, she was instrumental in guiding its transformation into an integrated global financial information and technology leader.  Previously, she ran the North American operation of FT Information (now Interactive Data Pricing and Reference Data), a leading provider of financial information and analytical software, and served as Managing Director of Extel Financial, an international stock database provider. She holds a Bachelor of Arts Honors degree from Newcastle University and a Post-Graduate teaching degree from the University of London's Goldsmiths College. She serves on the Board of Directors of Automatic Data Processing Inc.
"We are thrilled that Sharon has chosen to join Penton, completing our plans to assemble a best-in-class management team to move the Company forward," said Tyler Zachem, Co-Chairman of Penton Media, Inc. "Sharon is an acknowledged leader in the media industry with unparalleled experience in transforming business information assets into leading franchises. Her proven management and operational expertise will be invaluable as we continue to evolve the Company into an even more effective competitor for both the near- and long-term."
Commenting on the appointment, Anup Bagaria, Co-Chairman of Penton Media, Inc., said:  "During her 22-year career in financial information, Sharon has been a driving force in the evolution of the industry.  We are confident that Penton and our nearly 1,500 valued employees will benefit from Sharon's outstanding leadership and vision as she works to identify new opportunities for our brands.  I would also like to thank John French for his contributions to the Company and wish him well in his future endeavors."
"I am delighted to join Penton's talented management team and lead the company into the next phase of growth for its exceptional portfolio of brands and franchises," said Sharon Rowlands.  "I am looking forward to working alongside Wasserstein & Co and MidOcean Partners to leverage these assets and further build Penton into a global leader in the business information industry."
Meet the Author
---