Penton Introduces Data Tool, Govalytics

First iteration provides data on the top 25 municipal regions.
Penton Media's Public Infrastructure group rolled out its latest product, Govalytics, a dynamic data and analytics tool for marketers looking to do business with local governments and municipalities.
Govalytics is being offered as a tiered-subscription service with four options. The services range from a free basic account to the platinum package (undisclosed price above $10,000), which includes custom services like a dedicated account manager.
The initial product will enable subscribers to access data on the top 25 Municipal Statistics Areas (MSA). However, Penton's vice president and market leader, Gregg Herring and director of brand management, Ben Walker, both note that the company plans to expand to the top 100 MSA.
"We've started with the top 25 and we're working our way down with the next 25 to the top 50," Walker says. "We will probably go to the top 100, but beyond that we don't see a need to go much farther. A lot of the companies that we have been keeping in mind while developing this product fit in with the 80/20 rule–they get 80 percent of their business from 20 percent of the national landscape."
In simple terms, Govalytics intelligence is broken down into three categories: Budgetary Data Analytics, Top City Officials and Capital Projects Data.
Budgetary Data Analytics aggregates information like expenditures, long-term debt and assets. It also offers analytical comparisons of accepted versus actual budgets as far back as 2008, which Walker says allows for trending and projections.
Top City Officials is a comprehensive contact list of municipal employees, and as Walker puts it, the list includes, "everyone from the mayor down to the fire chief."
Capital Projects Data is a localized list of planned and pending projects that municipalities are working on. Marketers can use this list through key-word searches to find potential clients that are seeking their services.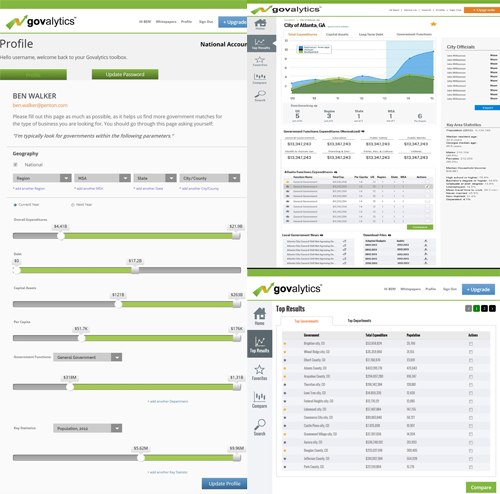 Walker suggests that the information Govalytics provides is otherwise highly fragmented and in many cases difficult to find. "We have done the legwork; we called them; emailed them, we did what it takes to get the right information," he says.
Herring indicates that, in a sense, the work for Govayltics began about three years ago, but the "real" work began in May. Penton built the product from the ground up and has its own team of data collectors, analysts and developers to maintain and expand it.
Although Govaylitics was designed with marketers in mind, what Penton has found is that municipalities can benefit from this product as well and use it as a tool to develop and manage their own budgets and projects.
The company says that similar products will be adopted for other Penton products soon. "This area of growth will be important to Penton going forward," Herring says. "And we believe there are iterations of this product in other areas, other opportunities–vertical opportunities that look a lot like Govalytics that we will be developing in 2014."
Meet the Author
---