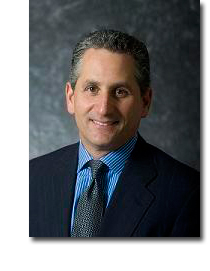 About four months after Sharon Rowlands resigned as CEO of Penton Media, the company announced today that it has hired David Kieselstein [pictured] as its new chief executive, effective immediately.
Kieselstein, who is also joining the board of directors, is the former CEO of market research company TNS North America, a division of WPP.
Kieselstein's appointment, which officially starts on February 21st, relieves Tyler Zachem and Anup Bagaria of their interim co-CEO positions, which they took on following Rowland's departure. Zachem and Bagaria are managing director of MidOcean Partners and vice chairman and managing director of Wasserstein & Co., respectively, Penton's private equity owners. The two will continue as co-chairmen of the board.
Kieselstein had been CEO of TNS since 2008. Prior to that he led Dun & Bradstreet's Small Business Division and spent a good chunk of his career at Time Warner where he was chief executive of the Parenting Media Group and was president and chief executive of the Personal Finance Media Group, where he helped launch the CNNMoney partnership.
He left Time Inc. in 2005 as part of a restructuring under then CEO Ann Moore which resulted in the layoff of 105 employees, including a roster of senior executives.
That mix of classic publishing background with the b-to-b focus of D&B and the marketing services of TNS is what helped Kieselstein land the job. He tells FOLIO: that marketing services, which was started under Rowlands' tenure and still in a "nascent" stage, has a huge opportunity going forward for the company. 
Other areas of focus will be expansion into international markets and a continued digital buildout. 
Kieselstein says Penton grew both revenue and EBITDA in 2011 versus 2010 and the company is well beyond its bankruptcy restructuring. "Thanks to Sharon [Rowlands] a lot of that heavy lifting has been done and she did a fantastic job over the last three years. I'm in a fortunate position where I'm coming on board to a company that's structured very well for the future. The performance, both topline and bottomline has been exceeding expectations of the ownership. And we're in a position where we can start thinking about acquisitions as well as organic growth. A lot less time will be focused internally on structural issues and a lot more time will be focused externally both on new markets and opportunities and also on our existing and new customers."