Penton Fades Out Remix, Keeps 'Hotel'

Music monthly scaled to quarterly; Web site, 'Remix Hotel' event to live on.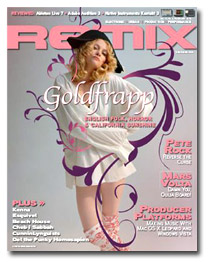 RELATED POST: Explaining Scaling Back Print to Advertisers
Penton Media has scaled back Remix, a well-regarded monthly magazine for music producers. The January 2009 issue will be its last as a monthly.
It will instead be published as a quarterly.
The magazine's Web site will continue to be published, the company said. Future print issues will coincide with the Remix Hotel, a multi-city traveling music production and performance event, and include editorial promoting speakers tied to the event.
 
In an e-mail to friends, Kylee Swenson, the Emeryville, California-based magazine's editor wrote: "The economy got me. I knew it was coming these last six months."
The magazine's monthly circulation of about 45,000, mostly paid and verified subscriptions, will remain the same. The company produces Remix Hotel events in Miami, New York, Atlanta, Las Vegas and Los Angeles.
In a note to advertisers, group publisher Joanne Zola wrote that the magazine will not only "refocus our content to the Internet but also restructure the Emeryville editorial department to include a dedicated Web content team."
Meet the Author
---