Penton 'Embarking on a Transformational Phase'

A Q+A with incoming CEO Sharon Rowlands.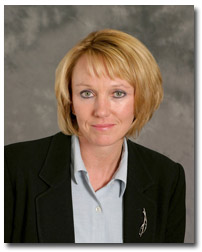 As FOLIO: first reported today, b-to-b publishing giant Penton Media named Sharon Rowlands, currently head of Thomson Financial, as its CEO, replacing John French. Her appointment is effective November 1.
Rowlands [pictured right] joins the company during a tumultuous time for magazine publishing, and for Penton in particular. In June, the company laid off 42 employees company-wide due to "poor economic conditions." Two months earlier, French initiated a salary and hiring freeze, and launched a company-wide revenue reforecast for the remainder of the year.
Rowlands spoke with FOLIO: about her decision to join Penton and what her immediate priorities will be as CEO.
FOLIO:: As you take the top executive post, what would you say are your top priorities for the company?
ROWLANDS:  Day One priorities will be to connect with the key constituencies of Penton—mainly the employees and customers to understand more about their needs and how we can take the business to the next level. Our strategic focus will be to assess the opportunity landscape and identify key focus areas to drive growth.
FOLIO:: Why, in your words, are you qualified to step in as the chief executive at Penton Media? Why did you decide to take the job?
ROWLANDS: I have proven experience in leading organizations through change—business model change, technology change and cultural change. As we evolve Penton into an integrated and customer segment focused company that serves its markets with a range of solutions my leadership experience from Thomson Financial will be key.
I spent a lot of time evaluating this opportunity and found it fits all the criteria that I had laid out for my next leadership role. A business with tremendous potential prepared to embark on a transformational phase. It has fabulous assets and people.  It was also key that I felt aligned with the owners and believe that MidOcean Partners and Wasserstein and Co. will be great partners.
FOLIO:: Where do you see the greatest opportunities for growth at Penton? How will you grow those areas?
ROWLANDS: It's too early for me to specifically commit but we are going to assess our markets for scale and growth opportunities and then grow by focusing on making ourselves the center of our customers universe with proprietary content, insight and connectivity that builds great communities that can serve our customers.
FOLIO:: Some say the merger between Prism and Penton (November 2006) was handled poorly in terms of back-end integration—specifically with the accounting and financial. What can you say about that? How will you manage the continuing effort?
ROWLANDS: These integrations can be very challenging but from my early look it seems to me that the Penton team really had their hands around this project. I will be focused on ensuring we have operational discipline in getting these issues behind us.
FOLIO:: What do you plan to do right away with organizational structure and workforce? Will you be investing in certain areas and reducing in others? Where are you going with headcount?
ROWLANDS: It's premature to discuss organizational structure or resource allocation until I have had a chance to develop a strategic roadmap with the Penton team.
FOLIO:: In your opinion, do multi-market, horizontal b-to-b publishing companies work in this environment? The central power is not close enough to the markets served, and the publishers and editors at the market level don't have enough power to do what's best.
ROWLANDS: The balance between corporate center and business level segment is a delicate one. Ideally you want to get the best of both worlds—customer driven growth initiatives from the front end of the business and leverage of scale at the back end and I believe with the right people and operating mechanisms it can work. At Thomson Financial I gained significant experience managing this type of structure. At this moment though I am keeping an open mind about the right approach for Penton.
FOLIO:: What do you see as your biggest challenge as Penton CEO?
ROWLANDS: The challenge will be one of time—it's a large company with many business units and widespread offices. I will want to get up to speed fast and want to make sure that everyone has time to be involved in the discussion around strategy and priorities before I make key decisions. I wish there were more than 24 hours in a day for the next month.
Meet the Author
---