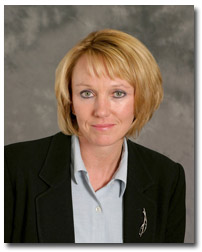 RELATED: Rowlands' Entire Memo
Penton Media has reduced its workweek from five days to four, effective the week before Memorial Day through the week before Labor Day. The b-to-b publisher will also reduce employees' pay.
"Whilst the reduction in workweek will be contained only to the summer months … we will spread the pay reduction in smaller increments throughout the end of the year to reduce the immediate financial stress" to employees, chief executive Sharon Rowlands [pictured] wrote in a memo obtained by FOLIO:.
In the memo, Rowlands said the first quarter was "the toughest in my business career" and said a number of the company's properties reported financial results "significantly below" the same period last year and "well below budget."
Earlier this year, Penton reorganized into 13 market-focused segments under five umbrella groups: industry; agriculture, food and marketing; lifestyle; technology; and financial services. Since then, Rowlands said the company has been "forced to eliminate a number of positions across the company."
Rowlands attributed Penton's losses not only to the decline of print advertising but also to declines in online and events. "Penton is really tracking a long way behind the industry in terms of percent of revenue that is digital, and we are not showing growth," she wrote. "The good news is we have a great focus on changing this picture and longer term I am bullish on what we can do here, but it won't change overnight."