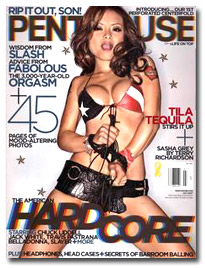 Penthouse Media Group has announced their intent to register for an initial public offering with the Securities and Exchange Commission during the second quarter of 2008.
The Boca Raton, Florida-based publisher plans to offer $250 million worth of stock in order to pay down its debt.
The company has been aggressive in the digital space. Penthouse Media Group acquired 25 Web sites, including adultfriendfinder.com, for some $500 million in December. (Penthouse projected the acquisition would put its annual revenue at $340 million. Playboy's 2007 revenues were $339.8 million.)
Playboy's stock price closed at $7.77 per share Thursday, down more than 30 percent from its 52-week high of $11.85 in October.
Led by CEO Marc Bell, the company has tried to reposition the magazine—long thought to be a seedier version of Playboy—to compete with Hugh Hefner's brand juggernaut.
"We put the magazine back to its roots, where it used to be," Bell told Reuters Wednesday. "We made it a young man's magazine, slightly edgier pictorially than Playboy."
It's a category that is hemorrhaging at the moment.
Playboy said last month that it expects a 30 percent decline in advertising revenue during the first quarter of 2008. Playboy publishing group's net revenue was $93.8 million in 2007, down from $97.1 million in 2006. The grim advertising projection came on the heels of its Audit Bureau of Circulations Fas-Fax statement, which indicated that single copy sales of the magazine fell 35.8 percent during the second half of 2007. Total circulation fell from 3,001,723 to 2,700,262—a 10 percent drop.
Total paid circulation for Maxim, a magazine both Penthouse and Playboy purport to compete with, was flat.
Penthouse's average paid circulation was 350,000 during the second half of 2007, down three percent over the second half of 2006, according to ABC. Penthouse's single copy sales—which make up roughly a third of its total paid circulation—were down 11 percent.
Bell bought Penthouse in 2005.