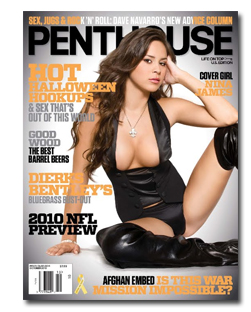 FriendFinder Networks, the owner of Penthouse magazine, said Thursday morning that it has closed on $551.2 million in financing.
The announcement comes after the Boca Raton, Florida-based company backed out of its plan for an initial public offering earlier this year. It first announced its intention to file for an IPO in March 2006, hoping initially to raise $250 million to help pay down debt. In 2007, Penthouse Media Group purchased AdultFriendFinder.com owner Various Inc. for $500 million, and later changed its name to FriendFiner Networks.
FriendFinder CEO Marc Bell told the Wall Street Journal Thursday that the company is preparing the launch of "three big initiatives," but did not expand on what those plans are. "We're always looking to raise capital to grow the business," he said.
In July, FriendFinder offered $210 million to buy rival Playboy Enterprises, three days after Playboy founder Hugh Hefner proposed to purchase all of the company's outstanding shares of Class A and Class B common stock for $5.50 per share (he already owns 69.5 percent of its Class A and 27.7 of its Class B stock). Although Playboy Enterprises established a committee to review Hefner's proposal the company hasn't addressed FriendFinder's offer other than to acknowledge receipt. A Playboy spokesperson says the committee's evaluation is ongoing.