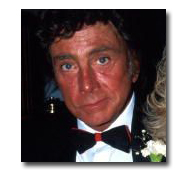 Bob Guccione Sr., who founded Penthouse magazine in 1965, died in Texas on Wednesday due to complications related to cancer. He was 79.
"It is with great sadness that Penthouse mourns the loss of its founder Bob Guccione," the magazine's current owner, FriendFinder Networks, said in a statement e-mailed to FOLIO:. "Mr. Guccione was a unique and talented individual and his courage as a publisher and journalist holds an important place in the evolution of modern media. His vision lives on with the continued publication of Penthouse Magazine and its affiliated publications."
Guccione [pictured] left Penthouse as publisher in 2003. In addition to Penthouse, Guccione published magazines called Omni, Viva and Longevity (which eventually folded).
Guccione is survived by his wife, daughter and his son—Bob Guccione Jr., who founded Spin magazine in 1985.