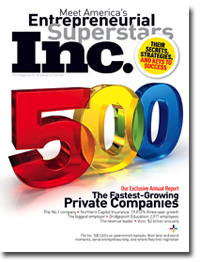 Mansueto Ventures' Inc. magazine unveiled its third annual list Wednesday of the 5,000 fastest-growing privately held companies in the U.S. Ranking first among magazine publishers is FriendFinder Networks, the Boca Raton, Florida-based publisher of Penthouse magazine. The company placed 210 overall on the list and third in the media category.
Between 2005 and 2008, FriendFinder saw revenue grow $31 million to $331 million—an increase of 966.4 percent. In addition to publishing Penthouse and other men's titles, FriendFinder operates sexually-oriented social networks and distributes pictures and video. The company applied for an IPO late last year.
Companies on the 2009 Inc. 5000 list are ranked according to percentage revenue growth from 2005 through 2008. Qualifying companies are required to have been founded and generating revenue by the first week of 2005 and to be able to show four full calendar years of sales. They must be U.S.-based, privately held, for profit, and independent—not subsidiaries or divisions of other companies—and must have had at least $200,000 in revenue in 2005 and at least $2 million in revenue in 2008.
The second fastest-growing magazine publisher on Inc.'s list is regional publisher 944 Media, which saw revenue grow 377.8 percent to $13.4 million during the period. 944 publishes magazines in Phoenix, San Francisco, San Diego, Las Vegas, Los Angeles, Miami and Orange County, California. In March, 944 acquired the assets of monthly culture and style title Six Degrees, pushing the company's total monthly circulation to 330,000—or about four million copies per year. 944 ranked 768 on the overall list and number 11 in the media category.
Other magazine publishers to make the list include brass-Media (ranked 809 overall), BizBash Media (1,652 overall), FOLIO: parent company Red 7 Media (2,498 overall), Mental Floss (3,164 overall), Financial Advisor magazine publisher Charter Financial Publishing Network (3,936 overall), Next Step Publishing (4,137 overall), BZ Media (4,241 overall) and Journal Publications (4,393 overall).
Also making the list this year is digital magazine vendor Nxtbook Media, which ranked number 583 overall. The company saw revenues grow 464.7 percent to $6.7 million during the period.
Topping Inc.'s list overall is Miami-based Northern Capital Insurance. The company, which owns and operates two property and casualty insurance carriers in Florida, saw revenue leap 19,812.2 percent to $95 million from 2005 to 2008. Meanwhile, Louisville, Kentucky-based Blue Entertainment Sports Television ranked number one in the media category.
To see Inc.'s full 5000 list, click here.