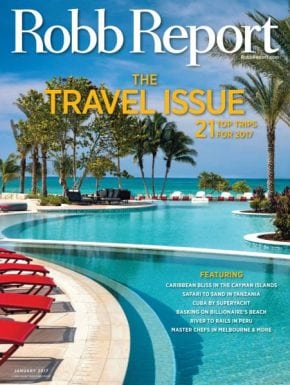 Robb Report will soon be run by a joint-venture between Penske Media Corporation and its existing owner, Rockbridge Growth Equity. PMC's investment is scheduled to close this week.
Rockbridge Growth Equity and PMC will have equal representation on the board of directors, according to a spokesperson. PMC — which owns serveral verticals including Variety and WWD — will also be involved in day-to-day operations at Robb Report.
In an announcement late last week, the companies described the move as an investment in the future of digital at the 40-year-old luxury magazine.
"[This] allows us to focus our combined energies on expanding Robb Report's digital capabilities as well as continuing to improve its print distribution channels and event activation to deliver optimal consumer and advertiser experiences," Brian Hermelin, managing partner of Rockbridge Growth Equity, said in the announcement.
The companies will also merge some offices, with Robb Report's New York operations moving to PMC headquarters at 475 Fifth Avenue, and its Malibu offices moving to the PMC Tower located at 11175 Santa Monica Boulevard.
Robb Report also has offices in Florida and Detroit, the latter of which opened when the magazine was acquired by Rockbridge in 2014.
Rockbridge bought the magazine from William Curtis, who took ownership in 2002. Curtis remained a co-owner and vice chairman after that acquisition, though it is unclear what role he will play now. A spokesperson declined to comment on whether Curtis still owns a stake in the company.
Former Dennis Publishing and Newsweek Daily Beast exec Stephen Colvin succeeded Curtis as CEO in late 2015 before departing after less than a year on the job. It was announced today that Colvin is joining Bloomberg as head of Bloomberg Live.
Robb Report will retain its current management team, though no replacement for Colvin has been named since he clandestinely left the publication in fall.
The terms of the deal were not disclosed.