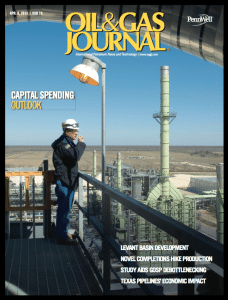 Trade magazines often have to adjust to their businesses to mirror the expansions and consolidations going on amongst readers and advertisers.
PennWell announced that it's merging two of its brands in the oil and gas market as a result of downward pressure on the industry at large. Oil, Gas & Petrochem Equipment (OGPE) will be folded into Oil & Gas Journal beginning in May.
"The industry has been shrinking over the past few years," says Jim Klingele, publisher of the now-combined enterprise. "Our readers, the companies we cover and our advertisers were consolidating and creating new efficiencies, so this allows us to serve them all as a single, unified entity."
OGPE will retain all of its products—a monthly print issue, weekly newsletter and website—though the magazine, including its advertising, will exist as part of Oil & Gas Journal rather than as a standalone. No staff changes are expected, Klingele says.
OGPE adds about 37,000 readers to the 100,000 already subscribed to Oil & Gas Journal, creating a larger, more diversified base.
"There's an advantage for the advertiser base," he says. "As the industry has gotten more integrated, they're applicable to a wider audience and this puts them in front of a much larger audience than they had before."