A Peek at The Economist's Digital Strategy

Reader surveys point to a potential sea change from print to tablet.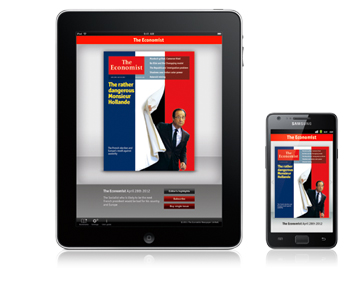 The Economist Group this week released its annual financials, ending March 31, and the numbers looked good, with revenue and profits up (4 percent and 6 percent), as well as circulation.
But while the overall circ of The Economist is at 1.6 million, says the company, only 123,000 subscribe digitally. But according to Oscar Grut, managing director, Economist Digital, that could change dramatically in the next year.
In a recent blog post, lifted from his comments in the annual report, Grut notes that reader studies have revealed that long-form content continues to be valued, especially in digital form:
"We are fortunate because tablets, e-readers and smartphones allow our readers to enjoy the ritual, lean-back, immersive experience of reading The Economist that they love in print. Many of our readers tell us that this experience is, in fact, even better than print, because as well as being lean-back, digital editions are delivered immediately and reliably (much more so than via the postal service)."
Grut adds that a majority of American subscribers noted in another survey conducted last year that print was the preferred format, but 60 percent of those respondents said by 2013 they'd likely change that preference to digital.
Grut's full post, where he digs into The Economist's broader digital strategy, is available here.
Meet the Author
---