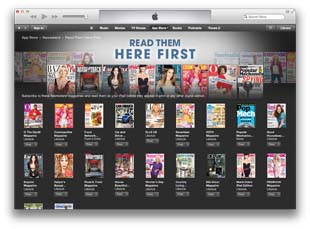 NEW YORK—Chris Wilkes admitted he was initially uncertain of how Hearst's digital efforts would play out—he even made sure to keep his old job when he started his work on tablets.
But now, more than three years after the launch of the company's dedicated app lab, he's overseeing the future of fulfillment.
Wilkes, vice president of digital editions, magazines and apps for Hearst Magazines, spoke to a room of about 50 fulfillment professionals at the CDS Global Preferred Showcase at Hearst Tower on Tuesday. He described the company's digital strategy that helped its tablet subscriber base pass the 1 million mark in March and add 400,000 readers year-over-year.
"There's a pretty good climb for a business that's growing in importance for us," he said. "It's a new revenue stream, it's a premium revenue stream, we do far less discounting in the digital magazine space, the [production] costs are less. It's also creates more of a transition between print advertising and digital advertising. The economics of a digital magazine are superior to the economics of a print magazine."
Wilkes noted the company's emphasis on "hot spots" that involve tapping and swiping on the tablet surface, video embeds, personalized special offerings and interactive advertising.
Richard Dorment, senior editor of Esquire, described how his title specifically has implemented those features, as well as cross-platform initiatives, from the brand-level perspective.
"The printed issue, website, apps and tablet edition all feed off of each other," he said, "each expressing their own character, each serving a specific editorial need."
Dorment cited the annual Esquire Songwriting Challenge as an example of the intersection. The feature included a printed story, music videos, iTunes purchase options, mobile codes, and a tablet edition that encompasses it all.
Those efforts have benefited the web, as well. Almost 10 percent of the company's overall web traffic is now coming from tablets.
The desktop-centric model started to change significantly in the winter of 2011, and has upped the pace since. It's a pattern that's largely mirrored the rise of tablet ownership, which, Wilkes noted, will surpass PCs by 2017.
But for all the engagement opportunities online, the focus is still on the magazine. Wilkes noted that readers spend about 1.5 hours a month with a magazine, compared to just 10 or 15 minutes on their websites.
"We're starting to make meaningful dents in our overall traffic" he said. "And that changes the value proposition. These are free websites, so largely we're monetizing them by putting ads adjacent to the content. And not just third-party ads that we charge for, but first-party ads for us to sell our own products."
To stay updated on the latest FOLIO: news, become a Facebook fan and follow us on Twitter!