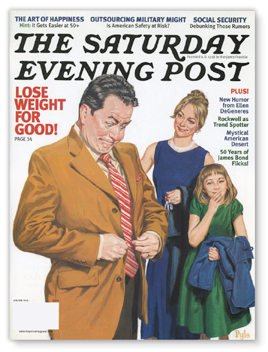 THE PATIENT: The Saturday Evening Post
AGE: About 114 years
VITALS: Weak
PROGNOSIS: Downward Spiral
In our stroll down memory lane, where visitors routinely ooh and ahh over things pioneering and well-preserved, we are as unabashedly appreciative as anyone. Especially when it comes to magazines. Remember the fabulous Fortune and Collier's of the 1930s? LIFE, and its great black and white photographs, in the early '60s? OK, of course you don't. But we admire them all.
Another magazine that must be included on any list of all-time all-stars is The Saturday Evening Post, which has been around in various incarnations since 1897.
The magazine, in its current form, resides within a time warp, forever trapped in an America where neighbors whisper secrets over back fences. In a sense, The Post hasn't changed. We have.
The magazine's singular focus way back when was on a shamelessly optimistic, post-World War II America. That POV was memorialized in the paintings of Norman Rockwell, whose brushstrokes, portraying an idyllic ruralscape, famously graced the covers of The Post in its heyday.
And now, insofar as we can tell, The Post—owned by the organization that controls licensing rights to Norman Rockwell's work—exists for just one purpose: Selling everything and anything produced by the late artist. It is not so much a legit consumer magazine as it is an odd-lot collection of content wrapped around a catalog pedaling the work of a beloved master.
Despite a circulation of some 360,000, it's hard to see how the magazine's (presumably elderly) readers find anything here that is not widely available elsewhere.
What We Prescribe
• Be more of what your competitors are not. The Post clearly shares audience demos with AARP—The Magazine and Reader's Digest. We advise going in the opposite direction, cutting deep into the tissues of our aged patient, excising every geriatric-friendly how-to piece that appears to have been rejected by AARP or RD.
Every story about health and technology and The Big Issues of our day should be replaced by old-fashioned Americana. In sum, immerse yourself in what you once were. Aim unabashedly for USA 1955. That's the differentiator. 
• More fiction. Not "cutting-edge," which is what The Post's promotional materials curiously promise, but rather mainstream, possibly even period, fiction.  
• With readers so obviously fond of Norman Rockwell, devote pages in every issue to accounts of his life.    
• Create an interactive website keyed to the magazine's newly realized mission of telling tales about both Rockwell and "the good ol' days."
Medic's Note
Long-term, it's hard to see how this story ends well.

A well-known reporter, writer, and editor—at Time Inc., Primedia, and other American publishing companies—Cable Neuhaus has frequently been called on to help create, repair, and run consumer and trade titles of various kinds.
See Also: The Saturday Evening Post's editorial director offers a second opinion on Magazine Medic's diagnosis.