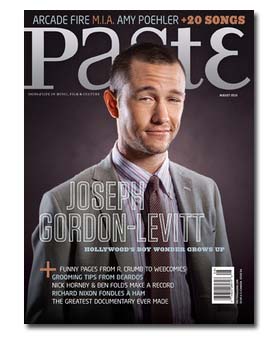 Last summer's "Save Paste" campaign, it turns out, was more of a band-aid than a complete success. On its Web site, editor Josh Jackson announced late Wednesday that the Decatur, Georgia-based music magazine is suspending its print publication.
"Struggles with mounting debt were made public last year when our readers responded with generosity to save the magazine," Jackson writes. "But the prolonged downturn of the ad market has forced a hiatus. … Paste, while considering strategic alternatives, is focusing on its digital assets, including PasteMagazine.com."
According to Paste publisher Nick Purdy, the magazine was close to securing outside funding but a "last-minute complication" arose that killed the deal. "It would have been incredible if it worked out," Purdy tells FOLIO:. "But we just couldn't complete it in time."
Purdy declined to comment when asked what exactly the "complication" was. He also declined to say how much debt the magazine is carrying.
The last issue of 200,000-circ. Paste to ship was June/July. Plans for the August issue (cover pictured above) were not immediately clear.
Prior to the print shut down, Paste employed 12 full time staffers. Now, only the magazine's principles—Jackson, Purdy and president Tim Regan-Porter—will remain with the brand. Purdy did not elaborate when asked what the team's plan is other than to say the focus on the Web site. Pastemagazine.com, he says, averages about three million page views per month and roughly 750,000 uniques.
Last summer, Paste instituted a campaign called "Save Paste" that essentially asked its loyal readers and anyone else with any spare cash to make donations to the magazine. The initiative raised more than $250,000 from approximately 10,000 donations and was enough to keep the title afloat at the time. At the same time, Paste implemented several cost-cutting measures, including a 20 percent pay cut, leasing out office space and eliminating all "non-essential travel."
Purdy says the hopes are to restart conversations with other potential investors who voiced interest in the magazine over the last several months. "I'd be thrilled to have the opportunity to produce Paste in print again," he says.
Rumors about Paste's print closure first surfaced on Gawker.