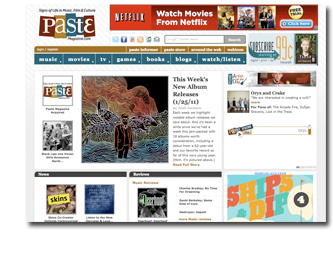 The assets of music magazine Paste—which folded in print last fall but kept Pastemagazine.com alive—have been sold to Wolfgang's Vault, owner of a variety of music sites including Wolfgangsvault.com, DayTrotter, and Crawdaddy! The Magazine of Rock. The combined group of Web sites will generate more than three million monthly visits.
Paste Magazine will relaunch as a digital edition and start selling digital subscriptions in March, coinciding with the SXSW Music, Film and Interactive Festival.
Mounting debt forced Paste to close in September. In 2009, the brand launched a "Save Paste" campaign that asked loyal readers (and anyone else with spare cash) to donate to the magazine. The initiative raised more than $250,000 from approximately 10,000 donations.