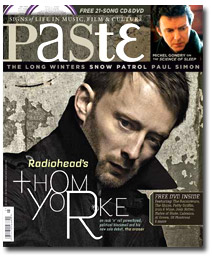 Paste, the Decatur, Georgia-based music magazine with a fondness for Radiohead–and its pay-what-you-want business model—announced a pair of high-level moves today. Nick Purdy, the magazine's founding publisher, is coming back to the magazine. Tim Regan-Porter, Paste's president and publisher, is relinquishing the publisher part of his title, and remains president.
Purdy left Paste in 2006 but continued to work on the company's next title–a "yet-to-be-announced Southern idea," according to a spokesperson.
The magazine also announced the promotion of editor-at-large Jay Sweet to director of business development. Sweet joined Paste as a writer in 2004.
In October, Paste, inspired by Radiohead, announced that it would allow subscribers to name their own price for an 11-issue, yearlong subscription to the magazine. That same month, the band sent shockwaves throughout the music industry by allowing fans to pay what they wanted for a digital download of its new album.