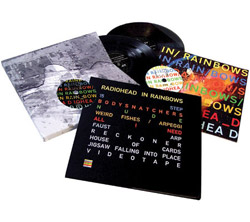 EXCLUSIVE 
The results are in for Paste's Radiohead experiment. The Decatur, Georgia-based music magazine added roughly 28,000 paid subscribers to its list, according to Paste president Tim Regan-Porter. Over 31,000 took advantage of the pay-what-you-want offer, paying an average of $4.00 for a year-long subscription to the magazine. The promotion ran online for a month.
"It was a huge success," Regan-Porter told FOLIO:. "These were paying subscribers, who paid up front. To get a response rate like that, we would've had to send two or three million pieces of direct mail." The magazine closed the offer because a direct mail subscription offer was mailed shortly after Thanksgiving, Regan-Porter says.
The success, however, does not appear to be a financial one, at least, not yet. Though new subscriptions generated about $125,000 in revenue, fulfilling those subscriptions will cost more than the $4.00 per subscriber the magazine took in. "We lost money," says Regan-Porter. The experiment will eventually pay off, he says, when these subscribers renew, and from additional advertising revenue the magazine can generate from an increased circulation. Paste had about 120,000 paid subscribers before the Radiohead promotion was launched.
Additionally, Regan-Porter points out, the magazine benefitted from a ton of PR-including articles on FOLIOmag.com and in the New York Times and USA Today. Traffic to the magazine's Web site, he says, doubled around the time of the promotion's announcement.
Despite Regan-Porter's enthusiasm, the magazine may again follow the band in making the stunt a one-shot deal. "Our goal here is not to depress the value of the magazine," says Regan-Porter, adding that he'd like to extend the pay-what-you-want offer through a direct mail campaign-but not again online. "Magazines in general are not valuing print as much as they should. [Allowing subscribers to pay what they want] is a not the direction the magazine industry should be going in."